I rushed through spinning the wool and silk batts for sock yarn, but before I could take a few snaps to share, we went through this really dark period where SE Minnesota had absolutely NO DIRECT SUNLIGHT for several weeks. The perpetual darkness was kind of awful, actually – I think I heard on the radio that it was some kind of weather record for the area.
But today! Today I woke up to blue skies! I'm here, unwashed and uncombed, to take photos before this fleeting good weather vanishes. 🙂 Aren't you glad the internets don't carry smellovision?
I present to you the first prototype of my "perfect" sock yarn!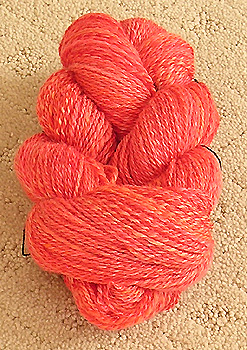 Technical notes –
The yarn was spun using mostly short-draw style (worsted spinning). The batts had been prepared to maintain the parallel prep as much as possible (I was applying fiber directly to the large drum), and I used my forward hand to smooth down the single as it drafted to lock the fibers in place. This technique makes an exceedingly smooth and shiny yarn. I could see where the blending was not too thorough – I believe the photo shows where there are shiny paler parts (silk) and darker fuzzy parts (wool). But overall, I think the yarn will still wear pretty well.
I was aiming for standard sock yarn weight. I used a strand of Meilenweit sock yarn as an example, the same stuff I used for Annalisa's socks. I sampled to make a 2-ply yarn that would have approximately the same final grist, and I spun mostly to the standard for the entire lot. The final outcome: Meilenweit sock yarn – 100 g, 430 yards; Twosheep sock yarn – 110 g, 424 yards. Hey, that's not bad! Most handspun is usually much denser than millspun, and while I did come out a little shorter for greater weight, the difference is pretty small. (I'm rather chuffed about it!) Goofing around with calculations – this is nearly a half mile of singles. Cool.
One more look: