I previously mentioned that I'd gotten the unexpected gift of spinning time when my then-first-grader was assigned to read out loud for a half hour daily. Here is what I was able to spin before school let out for the year.
I had 2 batts from Franquemont Fibers, purchased back in 2007, when Abby had an eBay store. (Mmmm, my stash is ooooold.) She called this colorway "Spring Rain"; it includes superwash wool, Bluefaced Leicester, Merino, kid mohair, tussah and bombyx silk, tussah silk noil, and nylon. (Altogether, it is not machine washable.)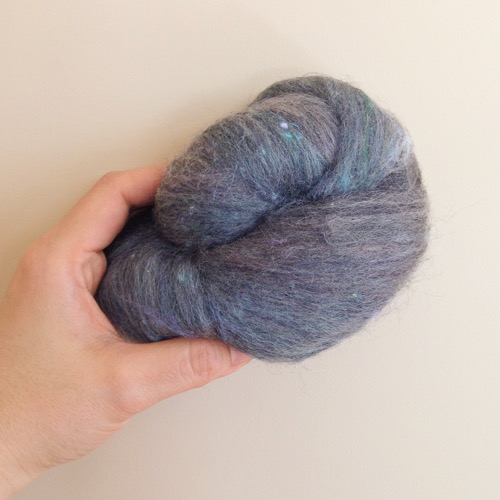 Because I'd purchased 2 batts, I decided to make this into a 2-ply yarn. Singles (American long draw) were spun on my Butterfly electric wheel. I was aiming for a fingering weight yarn.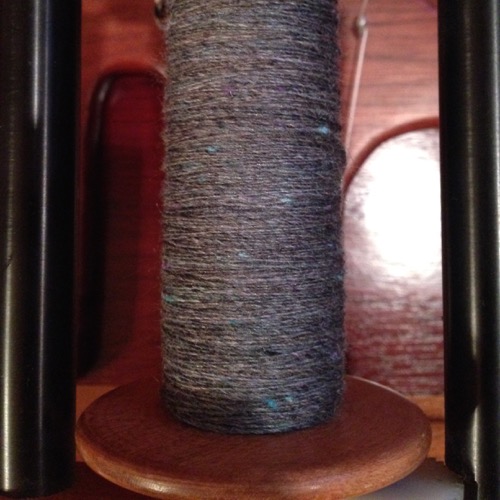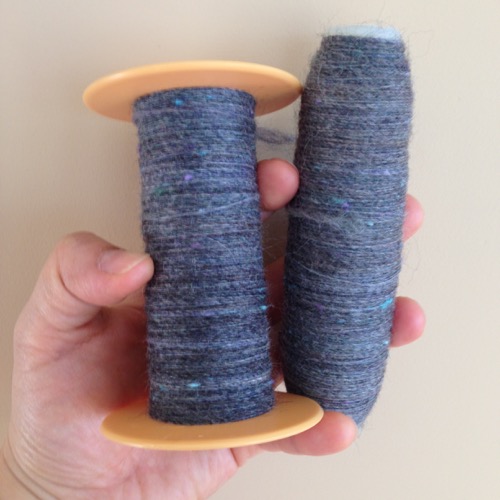 After the singles were transferred to storage bobbins, I wanted them to chillax for a while and thus started spinning singles for a new yarn. This is a Merino Tencel kettle-dyed blend from Misty Meadows. I'm pretty sure it was a souvenir from the MN State Fair, probably from 2006 or 2007.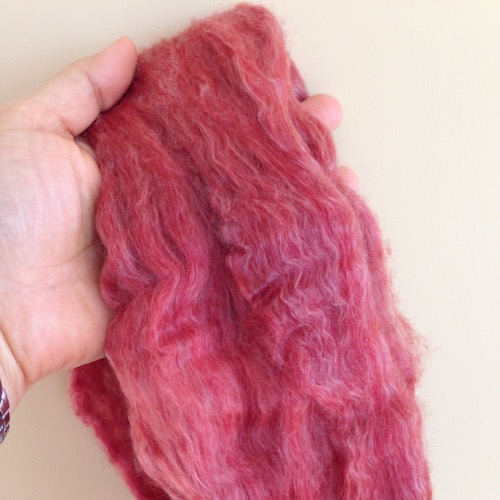 With the white shiny streaks in the red, doesn't it remind you of well-marbled meat?
So that got spun up (from the fold), also on the electric wheel. I was hoping to maximize the yardage and aimed to make a laceweight yarn.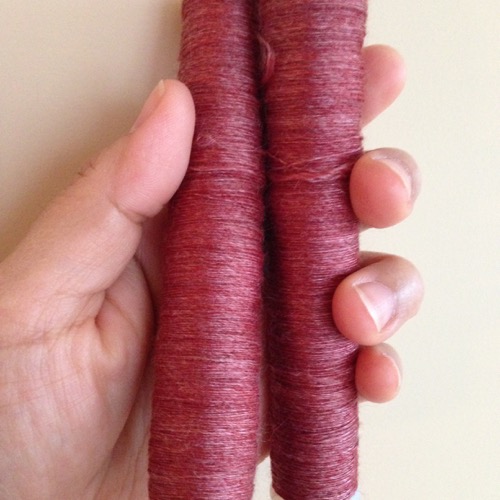 After those singles were transferred to storage bobbins, it was time to go back to ply the blue singles.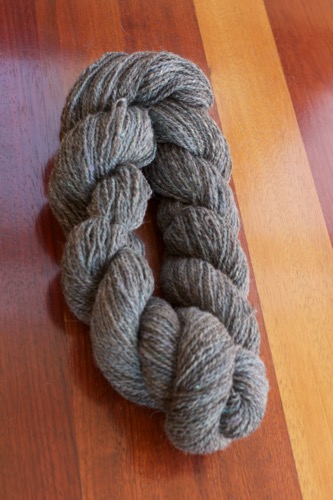 Final weight is 97.7 g; final length is 325 yards.
A few close ups: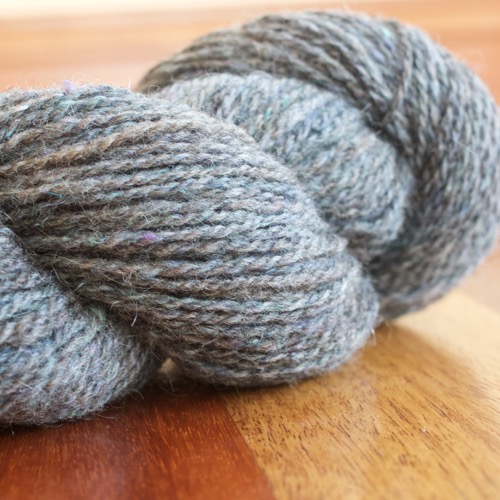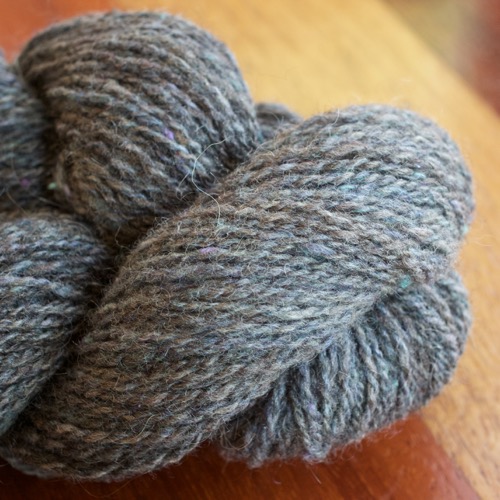 Plying the red was tricky. For some reason, the wire yarn guides on the wheel pushed back the plying twist on this one, and the final yarn was fairly underplied. I wound it off onto a niddy noddy and placed the skein right back onto a swift so that I could ply the yarn again. Not the greatest picture below, but possibly you can see the difference between the plied and underplied portions.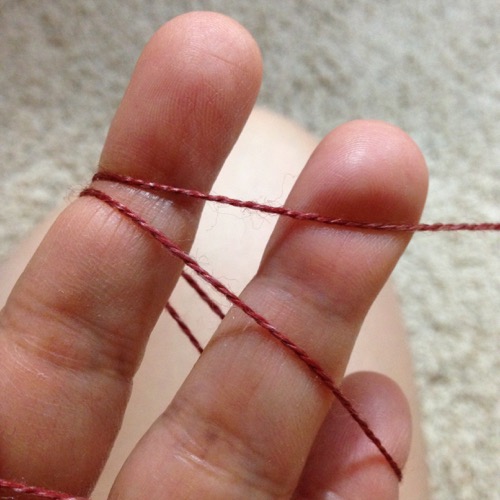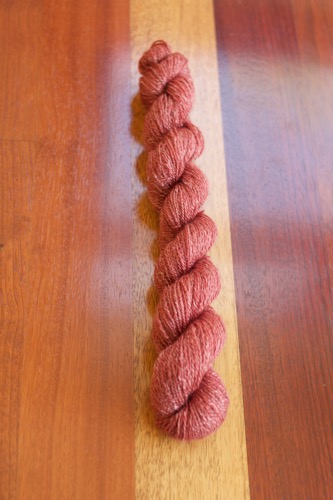 Final weight is 49.6 g; final length is 234 yards.
Given the meat-like color, I was joking with a friend that I should make it into a lacy scarf – a caul cowl! (Ha! But I think Jessica mostly beat me to that joke by a few years.)
A few close ups: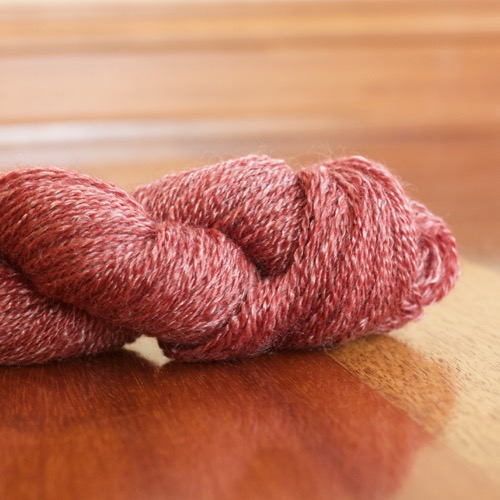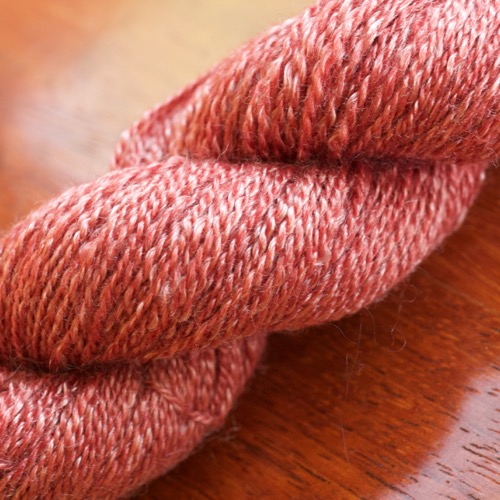 I'm sad that my big blocks of spinning time are gone, but nothing good lasts forever, right? 😉