We got back this morning at 2 AM from a whirlwind visit to Matt's parents and grandparents. Miracle of miracles, we were able to coordinate 5 working people's schedules to take simultaneous time off and flew to Florida for the long weekend.
There was lots of eating (Matt and I refer to weekends with his family as "Weekends of Meat"), lounging around, sleeping, and playing with Baby Dan who is now a few months shy of his first birthday. He's talking ("Bah! Mah! On-yon!"), waving bye-bye, pointing at things, and generally being irrepressibly cute.

With Mom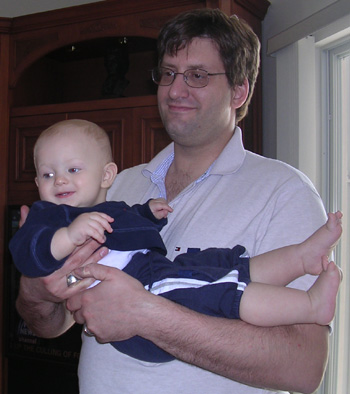 With Uncle Matt
Brother-in-law Bob (father of Baby Dan) is at the far right. He mentioned that Dan has mostly outgrown the Viking Chicken hat by now, which is not unexpected. As a general rule, I don't knit for children (they grow so fast, mostly), but I might make an exception for a baby nephew. *g*
In other news, I have airplane flu (aka The Flying Plague) AGAIN. Almost without fail, I get horrendously sick after flying. This "habit" has ruined more vacations than I care to remember. (Currently, I have a headache, total body fatigue, sore throat, phlegmy coughing, a man's voice, mild fever, cascading nasal drip… Yes, I'm so sexy.)
An aside – can you say fever dreams? I dreamt this afternoon that a General is coming after fundamentalist Christians, ostensibly to round them up and kill them. He has hired a band of nuns to do the dirty work. I'm working undercover in the resistance, but I think I've been discovered. I fight the nuns, but they turn out to be legless puppets – I literally find polyester fiberfill under their habits, their curled fists turn out to be wooden knobs attached to dowels, and their skin reminds me of oven mitts with faces that are made from stuffed pantyhose. I jab large T-pins into their faces and eyes to prevent them from reporting to the General. (I also step on them and discover they are squishy.) In the meantime, one of my coworkers is leaving me clues inside large packages of noodle soup, but I have to cook the soup to get the secret messages. I wake up (drenched in sweat) after washing a mountain of dishes to find a pot the right size to decode my next mission.
Nothing like a fever dream to confirm you are exactly as crazy as you always suspected… Anyway, I'm diligent about handwashing, I don't touch nasty surfaces in airports or airplanes, but I don't see a lot of people and am not exposed to many germs in the course of my daily living. How else might I boost my immune system?