TL;DNR – I sewed funky flare jeans!!!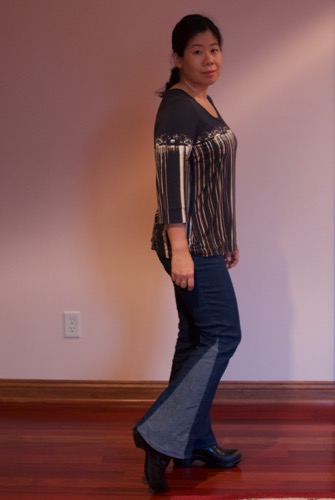 But let's go back to the beginning.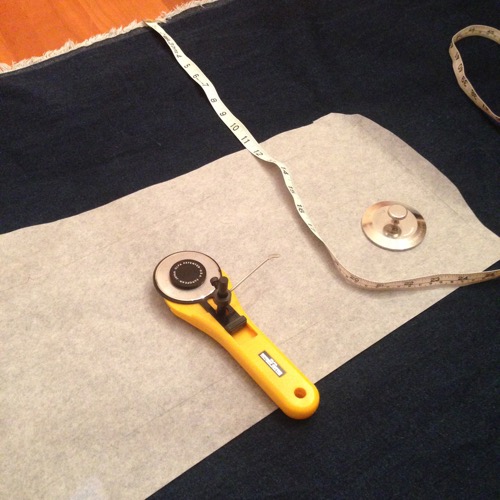 If I manage to get up at 5:30 AM, I can sew for ~15 minutes before I get ready for work. What can be sewn in twice-weekly, bleary-eyed sprints? Well, how about a sloooow pair of Jalie pull-on jeans! Cumulatively, this project probably took about 8-10 hours to cut and assemble, so while it was a multimonth project for me, normal people could probably pull it off in a weekend. 🙂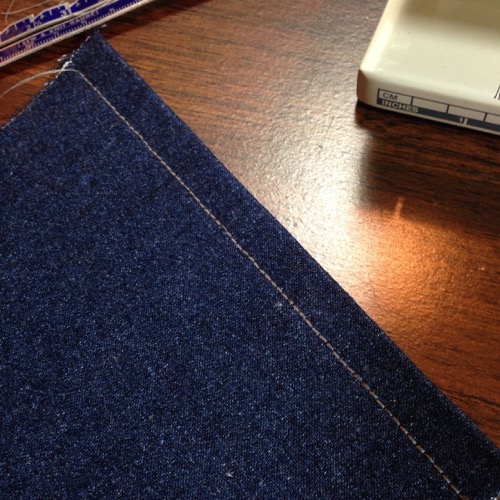 I deviated from my usual cautious self and didn't make a toile. Instead, I took flat-pattern measurements at the waist and hips and decided to go with a size X at the waist and blend it to a size V at the yoke bottom and then to a size T at the hips. I kept it at size T from the hips through the bottom hem, although I shortened the inseam length by 2 inches.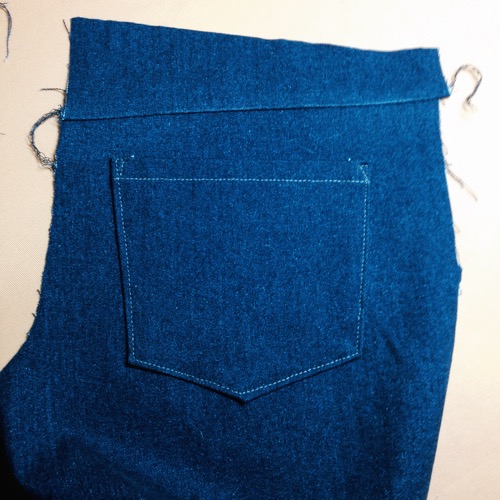 I didn't blend between sizes quite right because the yoke extended into the side seam, oops. I just trimmed it off, and it didn't seem to affect fit.
Fabric was from the stash, a nice midweight dark stretch denim from Lura's Fabric Shop, purchased in 2011. (Excellent service at that shop, btw.) I'd originally planned to sew a few pairs of Jalie 2908 jeans (inspired by the Selfish Seamstress), but I lost steam after the first one (never even blogged it) and put the rest of the fabric away.
I set up 2 machines for sewing. I used a Bernina 830 Record for seaming and a Bernina 1030 for topstitching. I bought the 830 last year (totally lemminged Renee when I saw her post and then found one available semi-locally) but never gave it any serious time until this project. It's a little jumpy (rabbity start, but possibly from user error), the lighting is pathetic, and the foot control is literally held together by packing tape, but it otherwise sews a fine seam.
For topstitching, I threaded the 1030 with 2 spools of regular sewing thread. I didn't use a fancy triple stitch setting or anything because I anticipated the inevitable tearing out and redoing. Honestly, I am terrible at topstitching.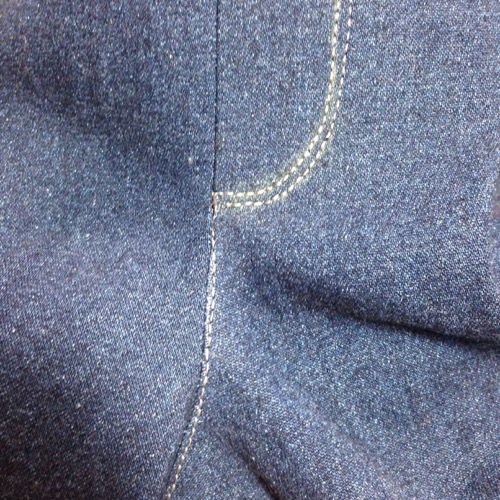 Gahh, where'd it go…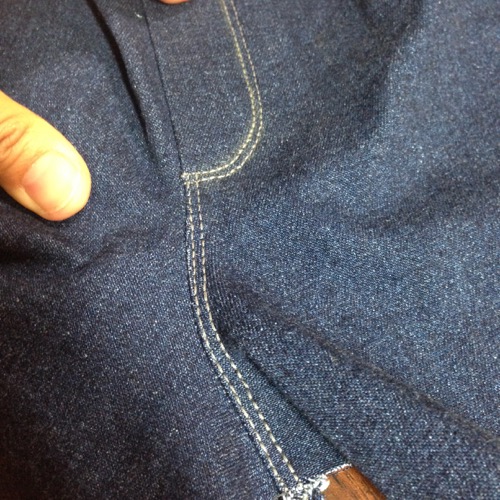 Picked it out and redid it. Not perfect, but better!
Even though I tried using specialty guide foots and other bells and whistles, the only way I could generate 2 parallel rows of stitching was to first draw lines on the fabric with chalk and then sew over the lines. Anyway, I'm happy with how it looks, especially considering that most of this was sewn before 6 AM and without any coffee!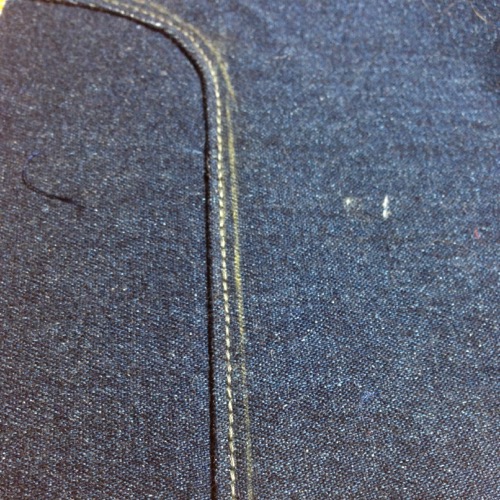 Chalk line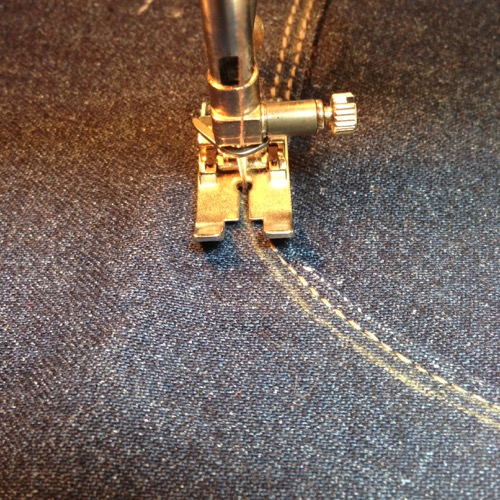 Open toe for better visibility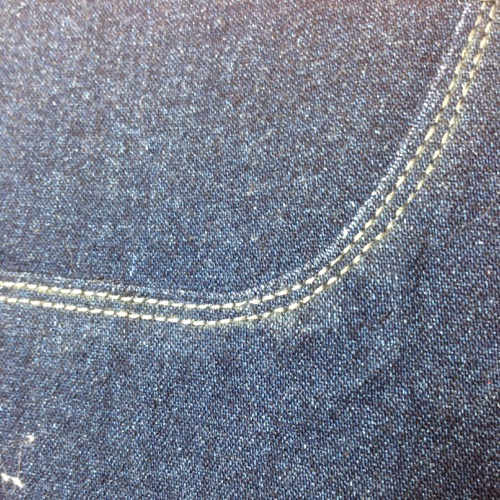 Hooray!
Two major fitting challenges cropped up, swayback and muscular calf.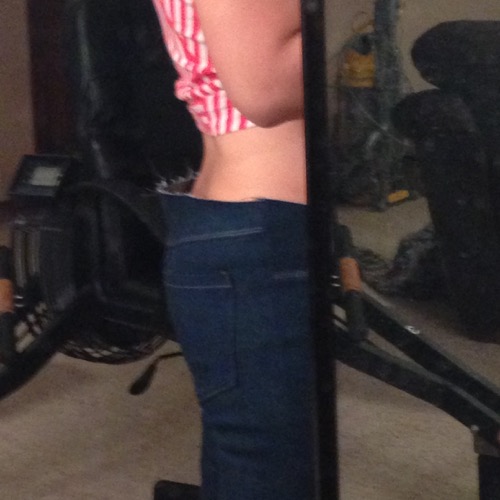 Three-way mirror shot
For the swayback alteration, I followed the Jalie gaposis fix and added 2 small darts to the yoke. I started with a single dart, but it was not a subtle change; to my eye, the curve looks much better with 2 darts and probably would be perfect with 3, but I'm OK with what I did. I'll redraw the yoke piece to eliminate the darts in the future.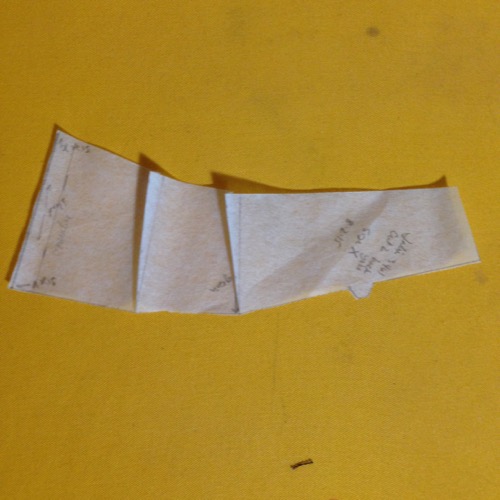 See how nicely it hugs the back now?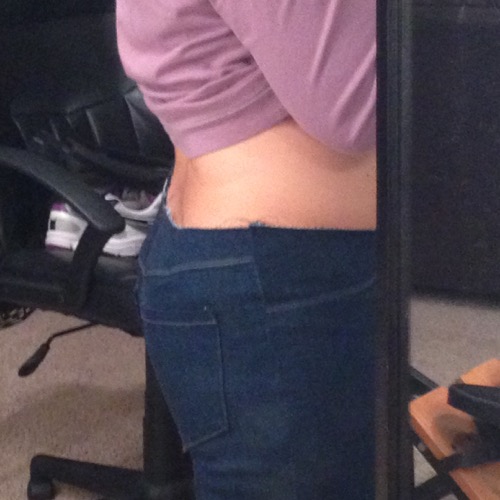 Up to that point, I'd basted the side seams only to the knee because I was working on fitting the hips and waist. When I finally sewed the side seams all the way to the ankle, I got an unpleasant surprise – the calf circumference was super tight and very uncomfortable! Yuck.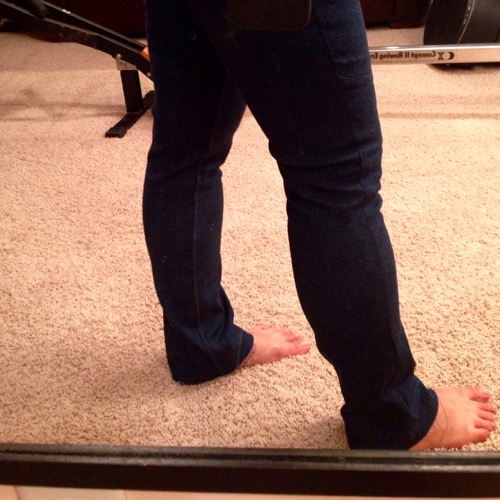 I'd thoughtlessly assumed that these jeans would fit a big calf. The designer even said, "These are not skinny jeans, but are 'skinny friendly.' As a big-calf girl, it is SO frustrating when a pair of skinny jeans fits perfectly everywhere but [just wants] to explode at the calf!"
Shame on me, I never measured the pattern below the knee. With a 3/8″ seam allowance, I had no fabric to let out. Gulp. I channeled Mrs Mole and tried to think outside the box. I found the inspiration I was looking for in a $280 pair of True Religion jeans.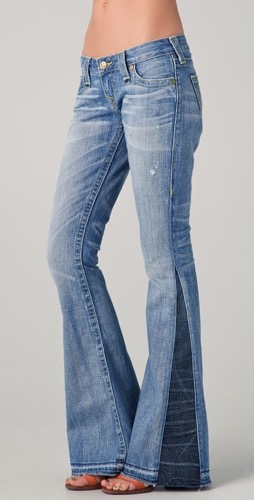 Hello, flare! I drafted and inserted a godet following the instructions in Sandra Betzina's Power Sewing. For the first trial godet, I drafted it such that the tip matched exactly where my knee hinged, but it was too low (no pics, sorry); I redrafted to make it 2 inches longer, with the tip starting at the top of the knee.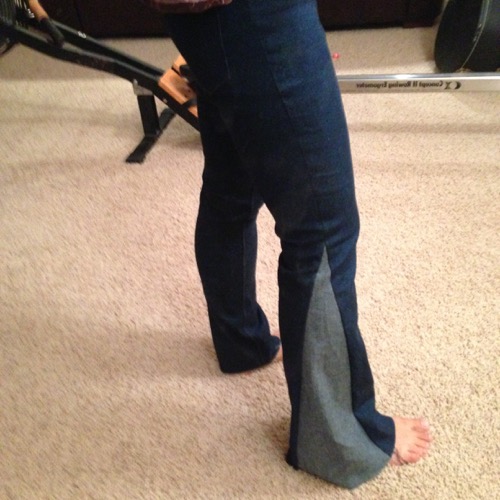 Ah, better. My jeans don't quite look like the True Religion inspiration, but I will chalk that up to the model probably having a 36″ inseam and weighing 130 lbs. Ha! Next time, I will redraft the leg for a bootleg cut or swap that portion with the relevant part from Jalie 2908.
I remembered to shorten the waistband to match the darted yoke.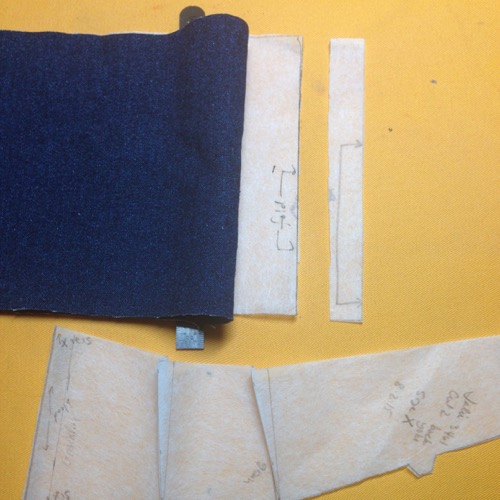 Some of the reviews for this pattern suggested the 1″ elastic was not wide enough for the waistband. I had 2″ elastic that I trimmed down to 1 7/8″ (Pro-Stretch, you can cut it horizontally without it falling apart).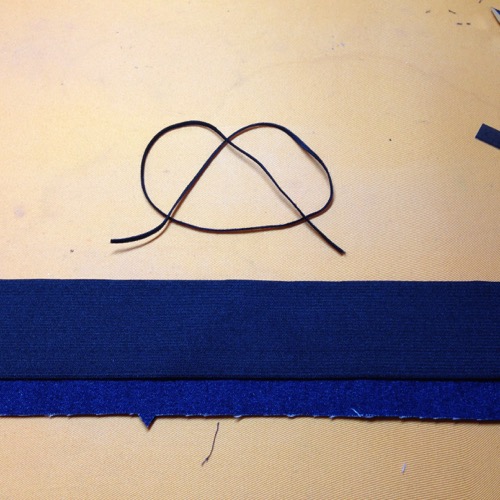 At 1 7/8″, the elastic fills out the whole waistband and gives it a nice sturdiness. I also shortened the length of back elastic by 1″ and stretched it to fit.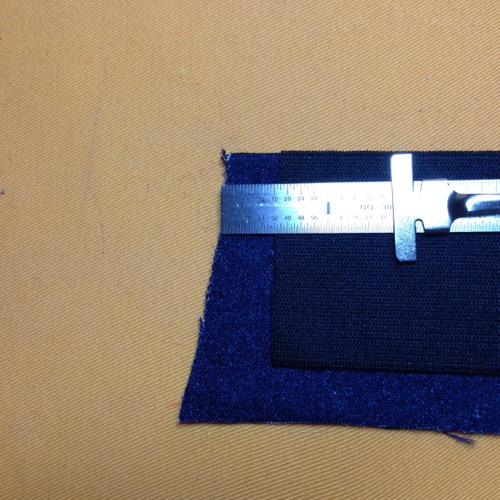 It still gaps a tiny little bit at the center back, so next time, I will probably make a deeper concave curve to the waistband edges and shorten the back elastic length by another half inch.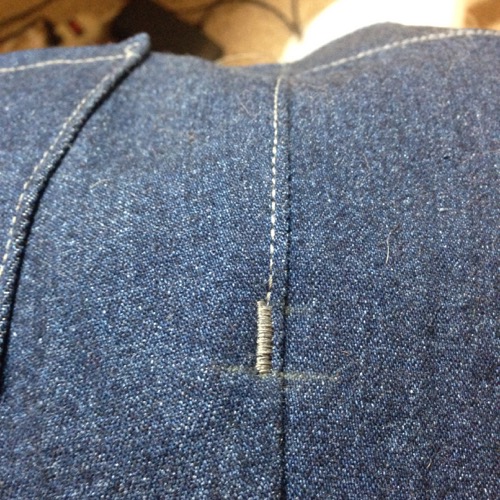 Pretty bar tack
Next time, I will change the pocket placement ever so slightly. The pattern has the pockets centered on the back seam, not the topstitching. However, because the eyes reset the center back on the line of topstitching, it looks like the pockets are slightly malpositioned.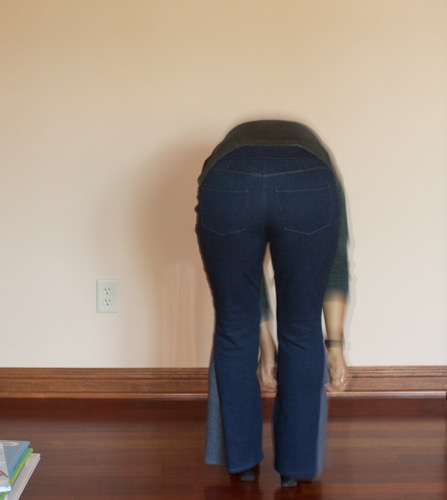 Will it be seen on a galloping horse? No, and hey, if someone notices being off by 1/4 inch, they're looking a little too closely, anyway.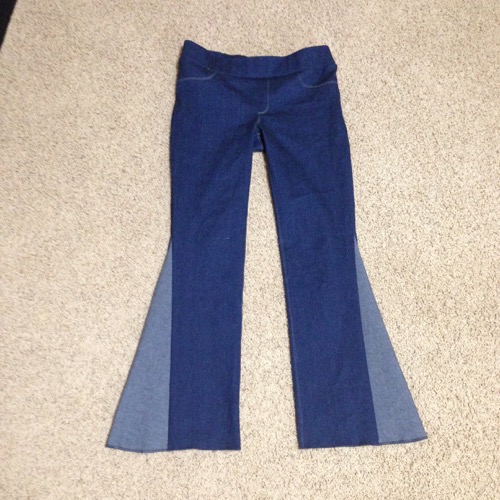 Laid flat, unhemmed
Lastly, I serged the raw hem edge and then washed and machine dried the jeans 3 or 4 times before hemming. I didn't want a thick, bulky hem because the jeans were so flared (thought it might give the lower half a "hoop skirt" look). Instead of making a double-fold hem, I turned it up just once and topstitched.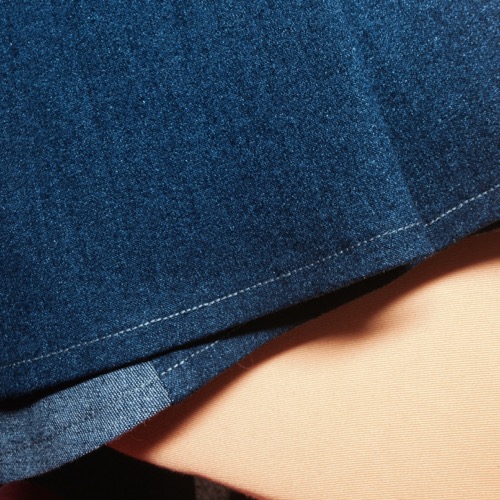 Are you still with me? (I know, too many words.)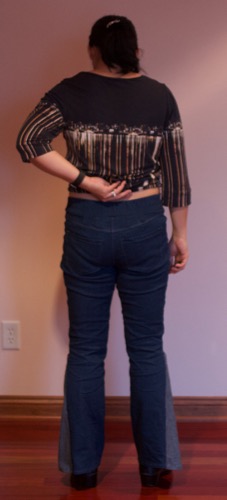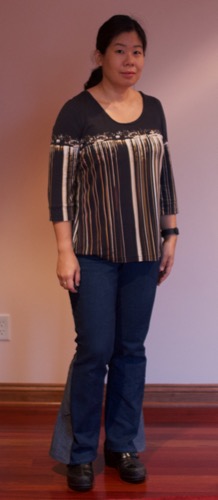 Back and front
The mini wrinkles and creases seem a lot more evident in the photos than they are in real life. Still, I'm not concerned about them at all, they have to be there so that my body can move in these jeans. I also rarely stand as stiffly in life as I do for photos, so the creases appear and disappear as I move.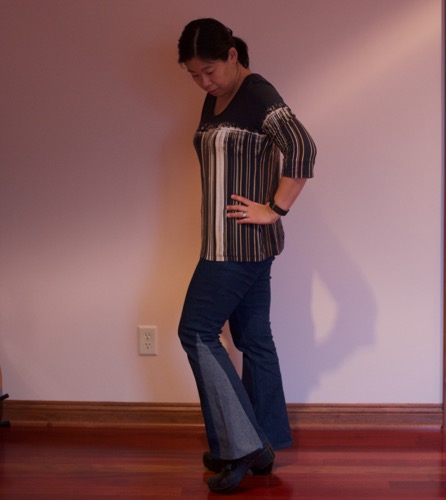 Love this flare!
I like that it doesn't gape appreciably when I squat down (critical wardrobe feature when you're wrangling kids).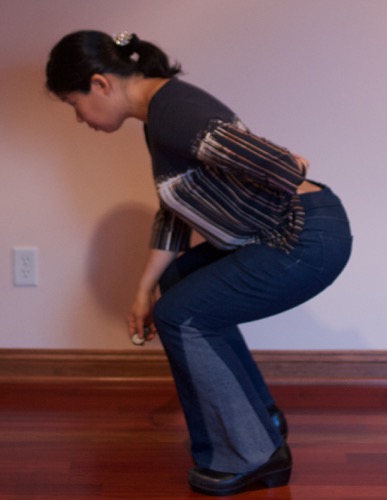 OK, to sum up – blending sizes, gaposis fix, flare legs. Thanks for reading!