Wedding of Cousin Ken
Sunday February 12th 2006, 10:52 am
Filed under:
Misc
Last weekend, Matt and I traveled to LA for the wedding of Cousin Ken. Of all my cousins, I am closest to Ken – we're almost the same age, and with his medical school and residency, I think he and I spent nearly the same amount of time in graduate school. ('Course, he seemed to enjoy his education more than I did, but let's not go there.) Ken is one of the nicest guys you'll ever meet, he's an eternally glass-half-full and where's-the-silver-lining sort of optimist. He married a wonderful lady podiatrist that he met during his residency, Mary. Two doctors, woot! Can you imagine the kids they're going to have?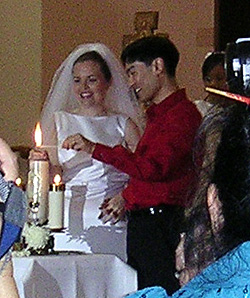 They had a Catholic ceremony in Mary's family's church, and a reception followed at a hotel in Long Beach. Ken is a huge Disneyland fan (no, really – in his younger days, he'd go there every month at least), and they had a Mickey&Minnie cake topper. Actually, the whole cake was hilarious: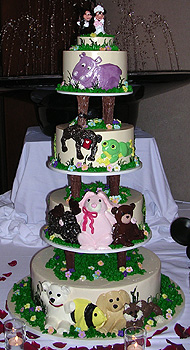 During the cake cutting, they put on a top hat and bridal veil with mouse ears.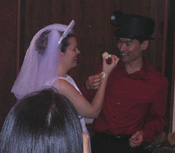 My Dad's 3 sisters live in California, and their families are all still in the area. Matt and I hadn't seen some of the cousins and an uncle in 5 years, it was so nice to have a family reunion. My parents are on the left (standing) with the rest of Dad's siblings and their spouses. Everyone is so cute, it kills me. (Just for reference, my Mom is about 5′ 2″.) Whenever I hug any of them, they're so tiny, I worry about breaking their bones with my embrace.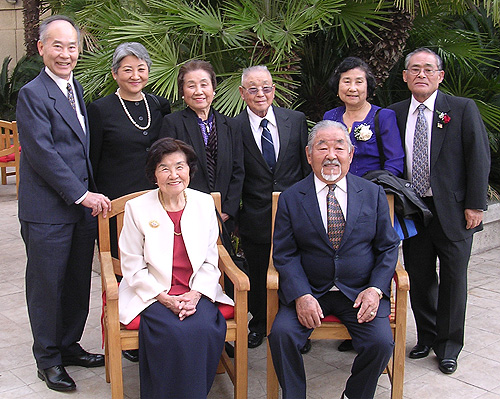 Matt towers head and shoulders over all of us. Family pictures with him crack me up because his face is usually at the top of the frame, and everyone else shows up somewhere in the middle of the photo. Case in point: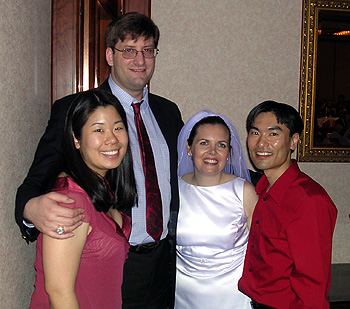 Matt, he comes from a taller peoples
Congratulations, Mary and Ken! May you live happily ever after!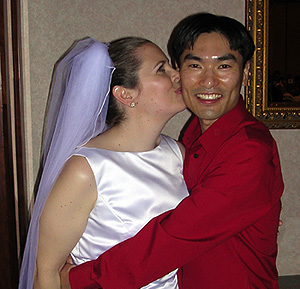 Print This Post