A woman I work with (a knitter and crocheter) gave me a little bag of handmade beads as a Christmas gift last year. They are glass, wood, cord-wrapped wood, or polymer clay. I wasn't sure what to do with them, and they rolled around the back of my head for several months.
Looking at them again last weekend, it suddenly dawned on me that they might make pretty stitch markers. I bought odds-and-ends beads (mostly 10¢ pieces), silver rings, and silver head pins from a local shop. I used a starter kit with 5 different pliers to bend the pins (didn't use all 5). I used instructions from wormspit to assemble them.
I shattered 2 glass beads (hence the naked bead in the lower left), but otherwise, it was a pretty uneventful assembly. I probably spent about an hour putting them together.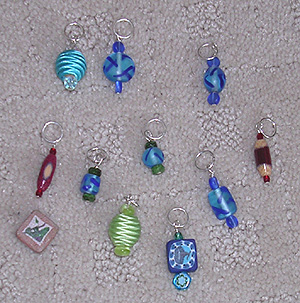 Voila!
I've never used such large stitch markers before. They take some getting used to because you need to flip them around when moving from needle to needle (they tend to fall behind the work). But they're pretty and dangly, like knitting jewelry. I like them!