I was kidnapped by aliens from Planet MuShu and was just returned to Earth last night. Boy, am I tired. But aliens are fun!
Eh, I'm kidding. I had a 1.5-day orientation at work last week (not sure why my "new employee" orientation takes place after I've worked there for 11 months, but hey), and it totally threw me for a loop. I made myself do these crazy 12-hr days most of this past week to catch up with my workload, plus I'm preparing to give a 30 min talk in about a week, and it was exhausting. The complimentary breakfast breads and coffee with sugar at the orientation also put me into a carb-induced coma that literally took me several days to get over (when will I learn?!), so I was sluggish, working too much, unable to get to the gym, and, frankly, kinda depressed. I felt like someone had pushed me down the stairs while I was drunk.
Thankfully, I'm mostly caught up now (even jogged/climbed 5 miles on Friday!) and am ready to get back to normal. So let's talk about yarn!
In 1999 or 2000, right after I got my first spinning wheel, I bought a pound of 80/20 Merino/silk batts from a vendor who has since disappeared. I'm not 100% positive, but I thought the business was called Sugar Bush Hollow (or Hill?), and the fiberist's name was Annie. Does anyone know what happened to her? In any case, Annie used Merino that she processed from raw fleece (not commercial top) and blended it on a Patrick Green Supercard with glistening white silk. The batts were probably some of the nicest stuff I've ever spun in my entire time as a handspinner. I've been lusting after a Supercard ever since, oh my.
Unfortunately, I was a mostly clueless newbie spinner at that time, and I spun the singles fairly fine and with relatively low twist, not really considering the final yarn structure. When it came time to ply, I suddenly understood that the fibers would not hold together as a balanced 2-ply yarn. After sighing deeply, I made my first 3-ply yarn. The final grist is about fingering weight. This project probably took me about a year to spin and another couple of months to ply. The yarn went into the stash and aged until this year. I looked at it periodically, but I didn't want to knit with ghost-white anything, and after doing my life's work in a laboratory, I didn't want to set up a dye lab at home, too.
Now if you've been reading my 'blog for any amount of time, you know I do dye my own goods when the spirit strikes me. Nevertheless, I just couldn't bring myself to work on this particular batch of yarn. I started thinking that I could hire someone with a good eye for color to do what I'd been dreading. It had to be someone whose work was really high quality – I had to entrust someone with a pound of my 3-ply fingering weight handspun! You don't just hand that kind of stuff over to anyone who says she knows how to dye yarn, if you know what I mean.
As time rolled on, Felicia's 'blog really made an impression on me as she shared photographs of her handdyed yarn. The colorways were striking and memorable, and the descriptions of her thought and dye processes made me feel like she cared about fiber the way I did. After her Etsy shop had been open for a few months, I went through her previously sold items to judge the consistency and quality of her work. Afterward, I thought, I could really trust this gal with my yarn. I mean, not that my nascent handspun is so precious, it just has weird sentimental value (and I am usually not a sentimental person) – because the vendor is gone, because it was the first project I spun after I bought my Schacht – clearly, something was special because I could not trust myself (my crappy dye skillz) to finish the job even 5 years later.
Felicia was enthusiastic about the project, and we figured out shipping and payment details. I was kind of vague in my instructions about the colorway – I wanted something mostly monochromatic (I don't like strong contrast because color pooling looks very peculiar to my eyes), but I also hoped to give her as much leeway as possible. We agreed to not share snaps after the dyeing was done, the better to surprise me when the yarn made it back to Minnesota.
Well, it got here last week, and it is simply gorgeous. I tried to take photos, but Felicia provided images on a CD that were considerably better than anything I could do with my dinky Coolpix, so you'll see her pics instead. Pardon the inconsistency of the handspun (I didn't know what I was doing!), but look at the colors!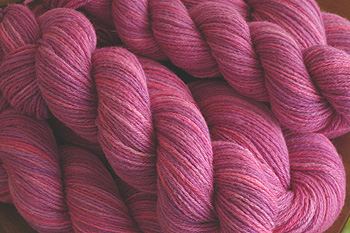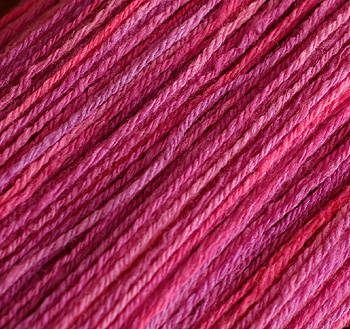 Thank you, Felicia!