Cathy, Kim, and I had a sort of 3-way conversation about alpaca not too long ago, and Cathy sent a sample to help educate me about the goodness that is alpaca. Her fiber came from Bliss ranch. My 1 previous experience spinning alpaca was with combed top from Ashland Bay. It was kind of hard and somewhat wirey when I spun it into a 2-ply fingering weight yarn. I still have it somewhere, maybe I could beat it into submissive softness. Or maybe the fibers came from older animals, in which case beating is a lost cause.
Anyway, this was my first experience working with raw alpaca. It had a long staple (4″ or so) and medium crimp. I washed it 1x in hot water with a squirt of Dawn dish detergent (because raw fibers and my Drudik wheel do not mix), and it dried overnight. I turned the sample over after it was dry and noted a lot of dust and VM came out. Now I am horribly picky about VM – I hate it to the point that I am willing to pay many dollars to avoid it. Hm, what to do, what to do…First, I used Cathy's suggestion of putting it in a mesh bag and tossing it in the dryer on air fluff for a while. It helped, but there were still a lot of crunchy bits in the fiber. Second, I combed it!
In the back is my green bottle of diluted hair conditioner (about 2 T of conditioner in a pint of water, shake to mix, spritz lashed fibers very lightly before combing). The combs are from here. I bought mine used, but even new, they are worth every penny.
Lash on, spritz, comb back and forth for 4 passes. I always think of Don King (really, how can you not?) when I comb fibers.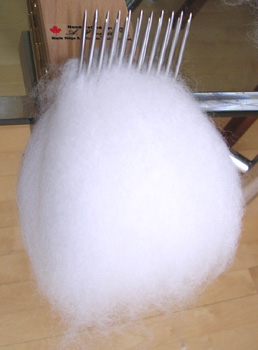 When I comb fiber with visible bits of dust and VM particles, I blow very gently with every swipe of the comb. If I see a noil or a speck of dust, I use my fingers (tweezers would probably be better) to pull it out. I do have a high percentage of waste (on the order of 33% or more), but I recomb all of the waste for 6 passes to bring the net loss down to about 20%.
Look how much stuff you can coax out with combs!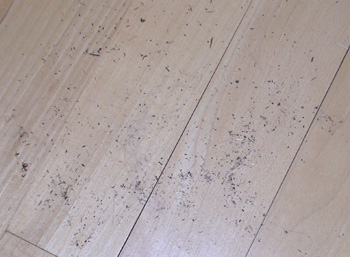 And look at what remained!