In celebration of the first anniversary of my still-new-to-me job, I made a lemon Bundt cake for my coworkers (and I also got a raise! Woo!).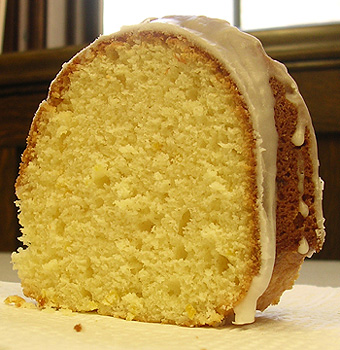 Again, I followed another recipe from Cook's Illustrated. I see someone has posted the recipe here. The only part of the recipe that I changed – I didn't wait for anything to become room temperature. I measured almost everything by weight, not volume, and I did not like the flavor of the glaze at all. (It was bland and starchy. Also, I don't think I added enough liquid, it was like drizzling Elmer's glue. Um, ew.)
The cake was moist and dense, almost crossing into pound cake territory. The lemon flavor was great! The office folks liked it. Here's what it looked like by lunchtime: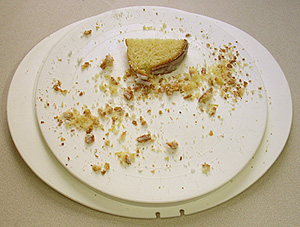 This photo actually illustrates something that I find very funny (funny-strange and funny-haha) about Minnesota culture. As I learned when I brought in my first cake to work, if I don't start it (ie, take the first slice), no one will taste it b/c no one wishes to look greedy by taking the first slice (?). Similarly, no one is willing to take the very last portion. They'll go so far as to cut the last slice in half, but they won't actually take the last piece.