Since posting about the alpaca sample from Cathy, I've been given a new bunch of alpaca samples from kindly fiber folk. (I haven't had much fiber time recently – too much work, mostly – but the generosity of friends will not be wasted!)
In the meantime, I did spin up the white alpaca.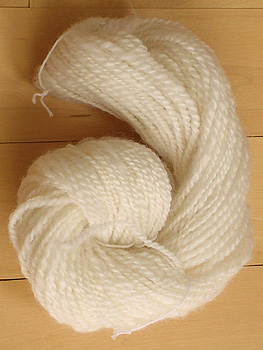 It's about heavy fingering weight or light sport weight. I liked spinning it so much (and this was before the samples were sent to me), I dug 'round the stash for the Henry's Attic superfine alpaca yarn that I knew I'd purchased (mumble) years before.
Ah, yes. I cast on for a 2×2 ribbed scarf and have worked on it only while reading (or in the car, passenger) because I can knit 2×2 without looking. I can probably knit 2×2 in my sleep. The scarf is a little under 4 feet long and super springy. I think it will block into something wider and flatter.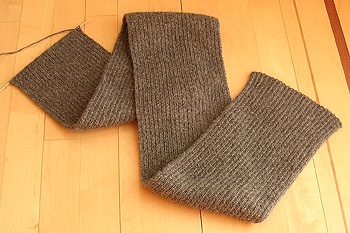 The yarn feels really soft in the hand… but when I put it on my neck, it prickles. (Superfine alpaca prickles?! I seriously have Princess-and-Pea skin.) This may go into the gift pile if it doesn't soften more after washing. I'll have to find a man-recipient with less sensitive skin. Maybe it would help if he had a hairy neck and shoulders.