I'm back from Maryland, safe and sound. The driving part was not so bad – aside from Giselle giving me some seriously quirky directions (a 20-mile U-turn, for instance), I was just fine. It wasn't nearly as nerve-wracking as I feared because the volume of traffic in DC meant that I was crawling at 20 mph for long stretches.
I met up with lots of people –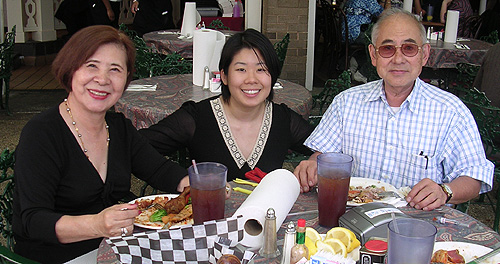 My aunt and uncle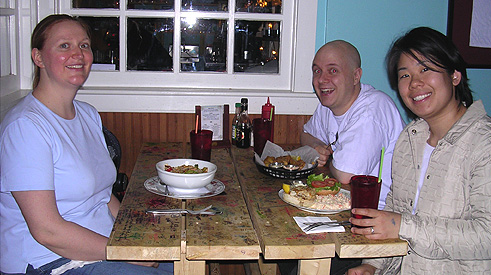 Margaret and Richard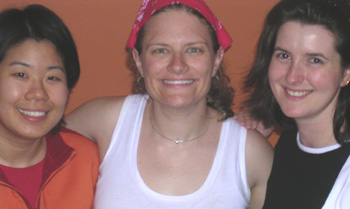 Glynis and Jen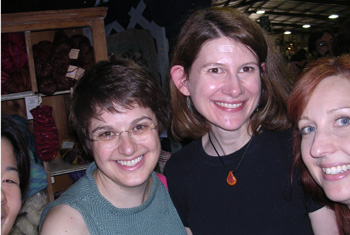 Some knit bloggers (this one was a self-portrait – can you tell?)
Beware of sheep – you never know when one might sneak up on you!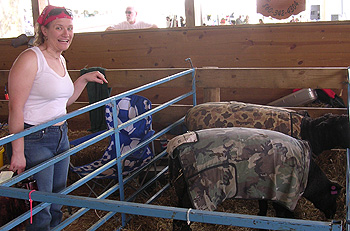 Stealthy sheep dressed in camo

I also bought some stuff – indigo and osage orange roving of Corriedale and silk, dyed bombyx silk top, a cap, an orifice hook, and a bag or Cormo/angora (60/40) roving.
Fiber-wise, I only bought that which would be a PITA to make myself. I don't think I have any plans for dyeing with indigo, the paddling and oxidizing and playing with urea… I'll let Stephania do it. We all know how poorly my previous attempt at handpainting silk turned out, and Nancy Finn kicks some serious silk butt, so more power (and my cash!) to her. The cap has last year's logo on it, but my neighbors won't care. They'll just be glad to see me out in the yard digging up dandelions. The hook (for my electric spinner) is turned by Bill Hardy (I'm not worthy, not worthy – and I have serious squirrel cage swift lust yet again). Cormo is such a springy and nep-prone fiber, it's hard to find a commercial processor who can do a smooth roving. (Sure, I could comb it myself – and I have – but I comb at a max rate of ~100 g/hr.) From the bit I teased open, it looks like Alice of Foxhill Farm (no direct website – scroll down for contact info) has found a great processor to prepare her prizewinning wool.
I also briefly chatted with folks that I've worked with or bought stuff from before, it's always nice to say hello and provide on-the-spot customer feedback for potential purchasers. I always make sure I say hi to Sheila Bosworth, Gail White, Otto Strauch, and Jerry Womack.
Although I spent Saturday socializing (see Cass for the linkfest) and cruising the marketplace, I did my serious MDSW-ing alone on Sunday. I tried out EVERY. DAMN. WHEEL. that interested me at the fair. I guess I'm not really in the market for a new wheel right now, but I do want to see what's out there and have an idea of the workmanship, the maker, the performance, etc. Let's see if I can remember what models I tried:
– Robin DT castle
– Schacht/Reeves DT Saxony
– Lendrum DT Saxony
– Kromski DT Symphony
– Golding triple flyer DT
– Vermont Spinning Wheel Saxony (no Web site)
– Merlin Tree Hitchhiker
My aim is to rigorously test a wheel in as brief a time as possible. (Sometimes, if I'm not impressed early in the test, I will skip some of what I've described below.) I begin by treadling only (no spinning) – 2 feet, 1 foot, the other foot, full speed and then let go and see how long it spins without treadling. I try the slowest ratio, the fastest, and one in the middle. I adjust the take up tension and change bobbins. I treadle slowly and quickly and low and high tension. I ask what points need oil and if the wheel knocks down for transport. I pick it up and set it down a few times. I listen for rattles and squeaks. I feel for "sticky" spots in the treadling motion. I'll take off the drive band and put it back on. If at any point I see something that confuses me, I ask a lot of questions. I also ask wheelwrights about why they design it this way and not that, what was the reason to add this feature or why didn't they provide that feature. Most wheelmakers are somewhat relieved to speak to someone who knows wheels very well and answer questions fully with the same kind of academic passion. (I love that! Thank you for taking me seriously!) Above all else, I try to be as efficient as I can without compromising the test run – usually, I can wrap up a wheel evaluation in about 15 minutes.
And since someone's going to ask – yeah, I still think the Drudik wheel is better. (I need to do a full review of the Drudik wheel someday [and the Butterfly spinner, too]. Someday.) Even though the drive band sometimes falls off at the high ratios, its momentum carries the day. The wheel is incredibly heavy, which results in ultrasmooth treadling action. Once it gets going, it spins effortlessly. Surprisingly, it is very easy to get the wheel spinning – still have no idea how such a heavy wheel starts so smoothly, but Magnus has worked some serious magic. Literally the only wheel I've ever tried that compares to it in terms of treadling was the 30-inch Wyatt Pegasus.
To those of you who I met for the first time, it was nice to put a name to a face. I'm sorry if I was a little quiet – I'm not much into social networking through the Internets, it still seems weird to be meeting people this way – but I was glad to meet-n-greet. To old friends, thanks for making the time. It was wonderful, as always, to see you again.