Well lookee here…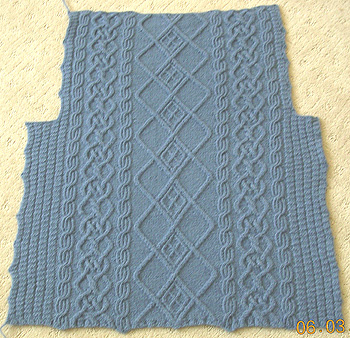 Don't mind the pin points from wet blocking. They will go away.
Claudia and Laurie, you asked whether the gauge changed between when I took the partial knit off the needles for blocking and when I continued to knit post-block. As you can see, it didn't.
I have the first version of the Plummer cables charted for public consumption. You can get the .pdf files here (p.1) and here (p.2). They're quite large files – I had to decide between file size and chart resolution, and I erred on the side of resolution. Links to the cable charts are also at the bottom of the sidebar. (Actually, they've been there for a couple weeks, but no one noticed. Heh.) Do let me know if you find mistakes?
So let me just say… I'm kind of an idiot. What you see above is me being screwed by row gauge again. Even though I make quite large swatches, they don't have the weight of a full-size garment piece. Things get wet, and things g-r-o-w. Nine years of knitting, and I still haven't pounded this folly into my head. (Proper dressing of swatches includes hanging weights off the bottom to simulate stretching. I have known this for years. Why don't I ever think to apply it in my own knitting?)
But let's back up a bit. I faithfully followed my pattern and bound off for the arms on row X, knit Y more rows to finish the back. When I was getting near the finish, I said, "Y'know, this seems kinda long."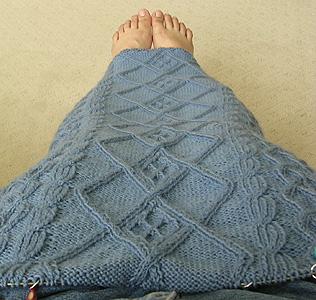 Ya think?
So it was a little lengthy, but I was all cocky and thinking that my previous blocking showed quite clearly that it would get wider and lose length, everything was going to be fine, blah blah blah.
I cast off, soaked it in the washtub, spun out the water, laid it on the blocking towel, and Sweet Jesus in Heaven, when I tugged it to the correct width, it was almost half a foot too long. Too long for, need I remind you, 6-foot-4-inch Matt.
My 2 options: 1) measure the new row gauge, recalculate the pattern, rip the top third, and reknit from the armscye up to the neck; or 2) put it in the dryer, knowing that I would have to knit everything else to the original miscalculated gauge and then shrink it.
Guess what I did?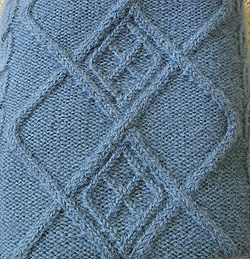 Yep, it went into the dryer.