I was rereading my blog entry last night and noticed some BIG HONKING mistakes on the back of Matt's pullover.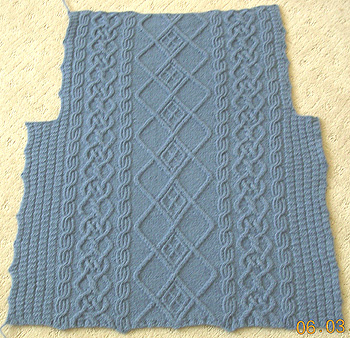 Mouseover to see the error.
I must say, in the months that I've been knitting this piece, I never once spent a second thinking about mirror symmetry. What can I say, it's been years since I made an Aran sweater. (I have knit 2 AS Aran designs [Mystic from Fisherman's Sweaters and St. Brigid from Aran Knitting]; I note drily that both feature mirror-image cables.) With the dryer-induced shrinkage, the sweater piece fulled past the point of no return. Frogging, tinking, laddering down – all impossible. (For those who were keeping track, yes, it did shrink to the correct dimensions. Alas.)
Matt said it was perfectly fine, that he'd be proud to wear it and that I should make the other pieces to match. But after tossing and turning overnight, I decided that I couldn't live with it as is. What is that aphorism – do it right or don't do it all? So I'm going to do it right. Better, in fact. I've recharted both side patterns (the narrow cable and the wider complex cable) to show mirror images. I have a new strategy to get row gauge – I do not intend to allow it to take the upper hand a third time. I'll have a chance to redo the loose cast on.
I'm feeling philosophical about this – it's just a hobby, right? More yarn of the same dye lot is already on its way. Thank dog for these little favors. In any case, I've learned a good lesson. I think I am unlikely to make this mistake ever again.