I'm glad I have a large collection of knitting books because I never have to wait to do research on a new-to-me technique. A few weeks ago, I wanted to know how to graph a mitered cable. A quick Google search showed me that general instructions were likely to be in this book. I read up, I selected a cable pattern, I made the graph, and voila!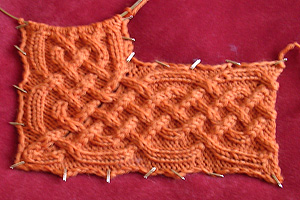 The short-row method recommended by the author leaves gaps in the fabric because you turn the knitting around without doing any wraps. She says short-row wraps look worse, and I'll take her word for it. However, with worsted weight yarn and US 8 needles, the gaps are pretty noticeable to me. I probably will tidy it up with a short seam on the back side.
—
Thanks to all who offered sympathy, encouragement, and other PsOV about my decision to redo Matt's sweater back. I appreciate your thoughts!
—
A fuzzy preview of coming attractions: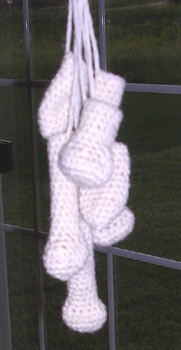 Bones?