I showed a preview of this project in yesterday's post, and judging from some of the comments, I think there are those among us who have minds in the gutters!
This is the project I was working on: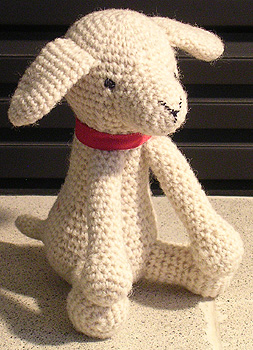 Puppy!

And a side view:

The ears are a little antigravity, but it contributes to the puppy's perpetually surprised expression. The other thing that mildly bugs me about this project – I'm lousy with embroidery and severely fudged burying the black thread ends. Something tells me I should have embroidered before assembly, oh well! Next time! It's still pretty damn cute. For the record, it's crocheted with organic Shetland wool and stuffed with white Border Leicster fleece. The amigurmi book with the pattern is here.
—
Matt and I are taking a little road trip to celebrate my birthday (today). See you in a few!