Thanks to everyone who left me such lovely birthday wishes. I had a really special day this year!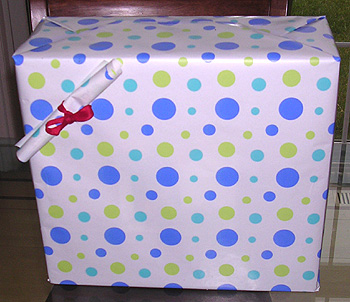 Mouseover to see the gift from Matt.
Matt and I drove about to see some friends and family. We stopped near Madison to visit with Alain and Annalisa.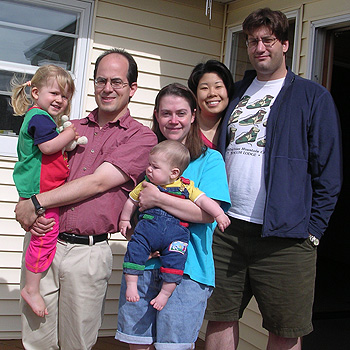 They have a (relatively) new son, David, and it was our first time meeting him. I brought him some onesies (though he probably won't fit into them until next year) that I had painted using freezer paper stencils.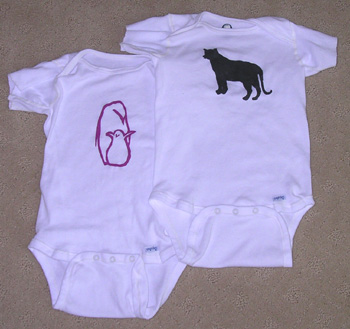 I first saw this technique on another blog and thought it was the neatest thing. I used the Google image search to find photos of animals, enlarged or shrank images until they were a good size for the garment, and printed them out on regular paper. I laid plastic-lined freezer paper on top of the image (plastic side down) and traced the image with a fat marker. Outlines were carved out using the tip of an Exacto knife (and a cutting mat). The onesies were used straight out of the package. I probably should have washed them first, but it seemed to work OK anyway.
I ironed a large square of paper on the inside front to prevent any fabric paint from bleeding through, and I ironed the carved paper on the public side. With my Rowenta, the freezer paper didn't "set" until I applied high heat (no steam). I daubed Tulip-brand fabric paint (purchased at Michaels) using bits of scrap fabric (a brush or sponge would have been much better). One hint – use generous margins on the stencil and the backing piece of freezer paper. Let everything dry for 72 hours, peel off the paper, and throw the onesies in the wash. Came out pretty cute!
The crocheted puppy was for Andrea, of course. Alain says she seemed to really like it. (Yay!) He wrote, "Yesterday we went to the park, and she brought along Otty (her long-favored doll) and the dog. Otty and dog went in the swing together, and played in the sandbox together."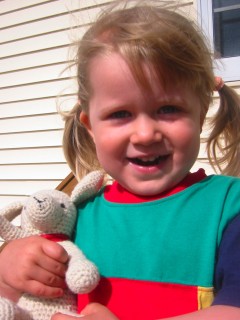 While we were there, we went to a local art fair, picked strawberries from a friend's organic garden, canned 6 1/2 pints of Barb Schaller's Mango Strawberry Jam with Kiwifruit, and ate 3 homecooked meals in a row. (Please note that they have 2 kids under age 3, but they still made the time to prepare things like pancakes, chicken-veggie soup, lasagna, brownies, all from scratch! And of course the house was really clean, the kids seemed happy and well behaved, etc. They amaze me.)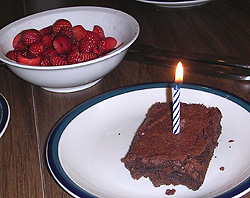 It was a fabulous birthday! Thank you!