Twosheep Yarn hasn't been updated since January. I hope to remedy that situation soon. (No need to click there now, nothing new has been added yet. I'll let you know when.)
Anyway, I've been winding hanks of yarn, and I was reminded that I am asked occasionally about how I twist my hanks into the Twosheep Challah Braid. To give credit where it's due, I first saw this twist in a Classic Elite yarn (pictured here), but I figured it out from a photograph, not from undoing a hank.
Here's how you can do it:
1. Begin with an ordinary hank of yarn.


2. Anchor one end (in this case, the left), and twist the other end outward.


3. Keep twisting.


4. Add twist until you have a lot of energy stored in the hank. It will want to kink backward on itself.

5. Bring the two ends together. Everything will curl up like crazy.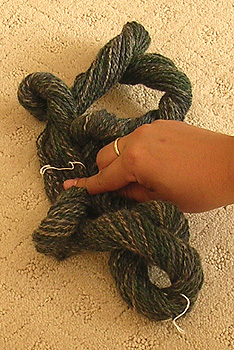 6. While you hold the ends together, pull each half straight and redistribute twist as needed to make a pleasant arrangement.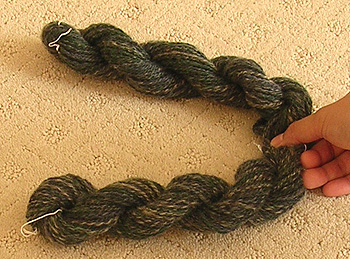 7. Tuck one end into the other and tug to straighten.

So easy!