About a month ago, Ted 'blogged about vacationing and visiting an alpaca farm somewhere near Champagne-Banana. I followed the link, gazed at photos of the fiber, and found myself purchasing a few ounces of white alpaca/silk/merino. Lovely stuff – very little vm (yay!), nice color and sheen, quite soft.
The fiber comes in "clouds," which are carded but really have no orientation to the fiber. The website says cloud form means no predrafting, but I could not get a consistent single without a bit of preparation. I mentioned this to Ted, who suggested that I write up a little tutorial about how to draft roving from clouds.
(One picky semantic note – I don't think roving can be "predrafted" [it's just being drafted]. Similarly, an oven isn't preheated, it's heated whether something's in the oven or not. No one "prelights" a candle before they sit down to dinner, nor is a car "predriven" when it's backed out of the driveway. Anyway.)
Here is the cloud as it came out of the zipper bag: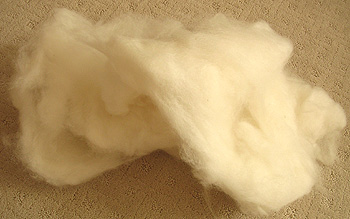 Separate a small cloud (cloudette?). This is probably about 1/4 or 1/3 of an ounce.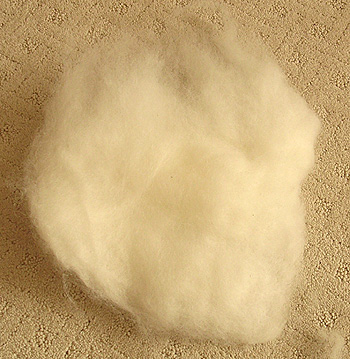 With your hands fairly far apart, grab 2 ends of the cloud and pull just a little bit. You'll feel the fibers begin to slip past each other. Move your hands down the cloud and pull again.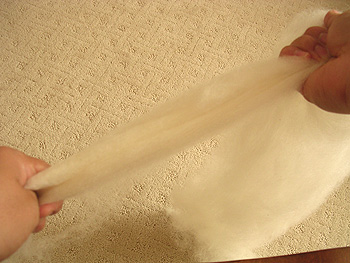 Your aim is to make a short, thick roving.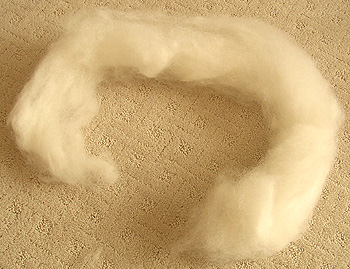 Grab 1 end (remember which end! This is Important!), and start drafting again, keeping your hands much closer together.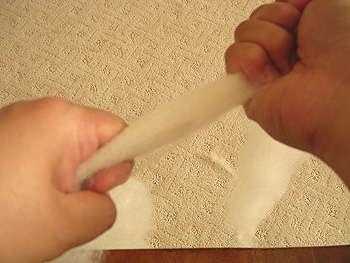 The roving gets a little thinner, a little longer.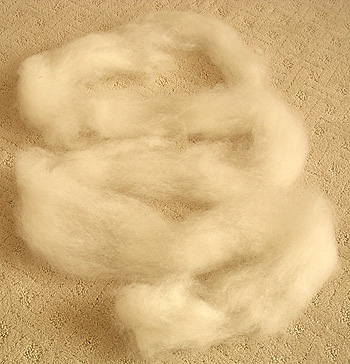 Pick up the original end, draft again. Do this over and over until you have roving that is about an inch wide and almost translucent.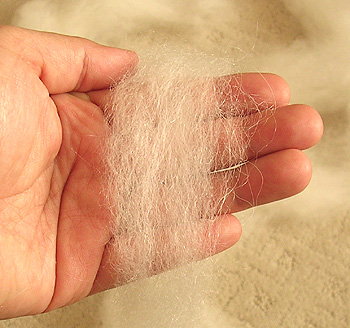 When I spin, I draft backward with my left hand. When I draft fibers before spinning (aka "predrafting"), I use the same set of motions and hold my right hand steady while I move my left hand back. I believe that if you always begin drafting with the same end first, you are imparting directionality to the roving, and this will make the spinning very smooth and easy.
Eventually, you will have a pile of barely-held-together roving.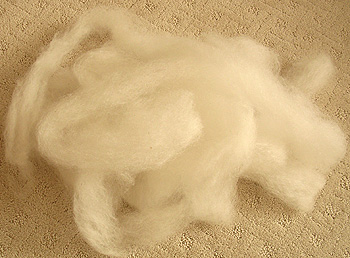 Grab the end of the roving that you just dropped, and begin winding a ball.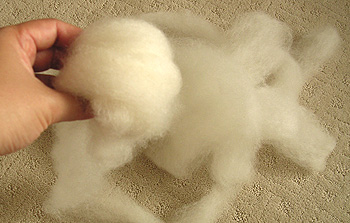 I like to add a little bit of twist as I wind the roving to discourage it from drifting apart. (Direction doesn't matter – you'll either undo it as you spin the yarn or the tiny amount that remains won't be enough to affect the drafting triangle.)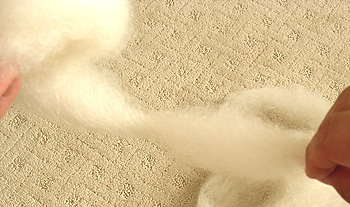 After 5 minutes of work, you have a small ball of roving that spins almost as well as handcombed top. Believe it!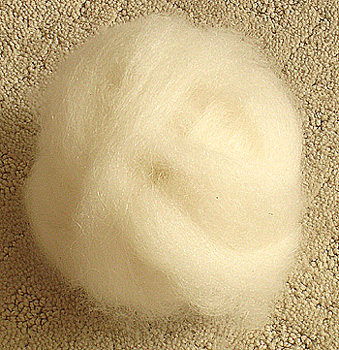 And some weeks later (just like that!), it turns into lovely yarn.