These days, I am a bit torn about bread baking. Yeast breads often take the better part of a day to prepare, and if a recipe has several proofs, I'm trapped in the house until the bread is done (ever try to run an errand within an hour and a half when you live in a rural town?). However, I think the taste of fresh baked bread is incomparable to anything store bought or even bakery bought.
We're riding the crest of another whole grain infatuation (I go through these phases), and I recently bought organic white whole wheat flour from the health food store. I read somewhere that the color is paler and the flavor is less bitter because it's made from a different type of wheat (hard white winter wheat) that lacks some compound in the germ. The flour is supposed to be nutritionally identical to regular whole wheat flour (ground from hard red winter wheat).
I wanted bread for sandwiches and toast, and I selected a recipe from Rose Levy Beranbaum's The Bread Bible. (I still heart RLB.) This is her basic sandwich bread recipe, modeled after a clone (or predecessor?) of Wonder Bread called Silvercup. It is a very moist and butter-rich dough. Relying a tip from James Beard (Beard on Bread), I substituted white whole wheat and bread flour (50/50) for the all-purpose flour in the recipe.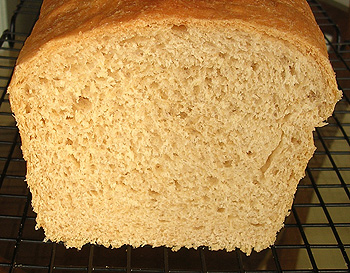 Sponge:
6 oz bread flour
6 oz white whole wheat flour
1 c milk, scalded and cooled to room temp
3/4 c water, room temp
2 1/3 T honey
3/4 t yeast
Dough:
5.5 oz bread flour
5.5 oz white whole wheat flour
3/4 t yeast
9 T butter, unsalted, softened
2 1/4 t salt
Mix all sponge ingredients until it forms a uniform and runny batter. In a separate bowl, mix the "dough" flours and yeast. Pour the flour jumble on top of the batter, but do not mix. Let it proof for 1 to 4 hours at room temp. Watch the yeasties bubble through the cracks between mounds of flour and make tectonic plate movement jokes.
Add butter and knead until a rough dough is formed. Cover and let it rest for 20 minutes (autolyse period). Sprinkle the salt and knead knead knead until the dough is shiny, smooth, and mostly cleans off the side of the bowl (10 minutes in a KA mixer at setting 4). Cover, proof until doubled in volume (~2 hrs). Pour the dough onto a surface, flatten without popping every bubble, do a business-letter fold, turn, do another business-letter fold, cover, and proof until doubled in volume (~1 1/2 hrs).
Set the oven to 350 F at least 45 minutes before the dough goes into the oven. Put a pizza stone on a middle shelf and a baking sheet on the oven floor. Cut the dough in half, shape 2 loaves, proof until the dough is at least level with the tops of (or 1 inch above) 2 1-lb loaf pans. Place the pans directly on the stone and toss a cup of ice cubes in the baking pan. Bake for 50 minutes (turning once during the baking). Release from the pans, slather on more butter, and let cool.
I liked this bread a lot. I cut it into fairly thick slices (1 cm?) and froze all that we weren't going to eat within a day. (Each slice is separated from another with accordion folds of wax paper, and it never sticks together.) It's a fairly nondescript bread, as far as breads go, but it fulfills the "basic sandwich bread" function very well. As you can see in the photo, it's a pale yellow color and not a "white bread" – somehow, I was naively expecting it might be indistinguishable from bread made with all-purpose flour. I've been eating a slice with Swiss cheese almost every morning for breakfast. Delicious!
—
Some administrivia – I installed a comment spam detector (Akismet) and have automatically closed comments on posts older than 14 days. Please let me know if you find something dreadfully inconvenient about either of these new features.