When I first received my Drudik wheel, I had been accustomed to spinning on a Schacht Matchless set up with Scotch tension (ST). I prefer ST over double drive when spinning fine because I think you can control the takeup with a little more precision. Anyway, I mentioned that, at the time, I found double drive a little fiddly, and Magnus recently emailed me a hint about setting the wheel up for Scotch tension.
Most wheels in ST use a spring or piece of elastic to give you a little resistance, and the tensioner is tied to a peg that you tighten or loosen as needed. However, the Drudik wheel in ST uses a brake band with a free-swinging weighted end. He said that if it was set up correctly, "It will give you a steady floating action, something like a gramophone needle." Hmmm…
I started with a weight from my knitting machine. Whoa, too heavy – the yarn was yanked out of my hand. I taped 2 pennies together and tied that to the end. Nope. One penny still seemed too heavy. So… what's lighter than a penny?
Why, a half penny, of course!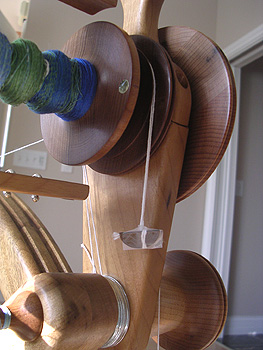 My friend Ben gave me a half penny when I was in college. I think he cut it apart during a machine shop class in high school? Anyway, I've hung onto that piece of penny for 12? years (including 6 household moves) because hey, sometimes I am a sentimental sap, but look how perfectly useful it is! So glad I had it! Thanks, Ben.
Yep, with this set up, I can spin pretty damn fine. The wheel is set to the highest ratio, 31:1. I need to make the orifice smaller to dampen the vibrations, but it's easy to pull out a thin single. (Handpainted silk, btw. Scroll down to the blue-green stuff.) Are you wondering how thin?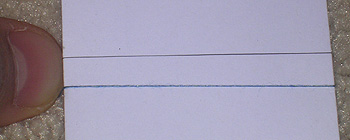 Thumbnail included for scale
I'm trying to spin to a standard, of course, and the lower thread is my yarn. The upper thread is… a hair I pulled out of my head.
(OK, I acknowledge that I'm spinning a tiny bit thicker than the sample… but heck, who's splitting hairs? Har har!)