The orange baby blanket is finished!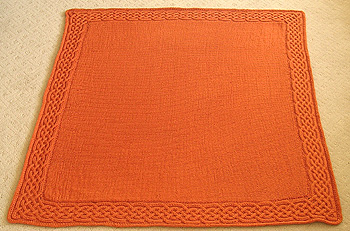 I present 1 beautiful orange baby blanket! It is knit from Dale of Norway Freestyle, superwash wool, worsted weight, 86 yards per 50 g ball. It's nearly 4 feet per side, stockinette center, and Viking cable on the edge with mitered corners. I applied I-cord edging to the outside border. I'm so glad it's finished – this was the only project I had with a Christmas deadline, and woo! It's going in the mail early! Yay!
I know it's been a long time since I 'blogged about this project, but I was running into so many unexpected problems, I felt like it wasn't appropriate to talk about it repeatedly without providing any resolution for the difficulties. However, now that it's finished, I want to discuss the lessons learned during this project. Bear with me – this is a LOOOONG post.
Last week, Matt's friend Jim heard me complaining about this blanket (er, I was making "Psycho" soundtrack noises while pretending to stab myself in the eye with a crochet hook) and cheerfully said, "When life gives you blankets, make blanketade!" That joke has gotten a lot of mileage with me – I kept repeating it during the last few days and immediately felt a little bit better each time.
Lesson 1: Gauge is a b*tch, part I
After determing the size of commercial baby blankets, I meant to make a square blanket that was approximately 30″ per side. I swatched the border pattern, calculated how many repeats I'd need, cast on, and knit. I knit all 4 sides, grafted it together, and laid it out on the floor. Hmm… It was 46″ on each side, which calculates to more than five feet of extra knitting. Yarg. But I shrugged it off because it's a blanket, and size is not such a big issue for blankets.
Lesson 2: Yarn quantities can be miscalculated
I had begun the project with 15 balls of yarn because I guestimated (on the basis of other baby blanket patterns) that a blanket would take 14-15 balls. However, I didn't account for my overshooting the border by 5 feet, and I also decided to apply the I-cord edging at the last minute. I made the gauge swatch for the center panel after the entire border was complete (more on that below), and I discovered that I would be short by at least 5 balls of yarn. Lucky for me, I found more of the same dyelot and ordered away. I was all set.
Lesson 3: Gauge is a b*tch, part II
I machine-knit the center panel. I made a huge swatch – 50 stitches wide and knit until I used an entire ball (the swatch was probably about a foot square). I gave the swatch time to relax (machine knitting can put some tension in the fabric) and dressed it as usual. I measured, calculated, and knit the center square. However, while I was knitting the real deal, I ran out of yarn about 20 rows early. Crap. I unraveled the previous row and used that to cast off.
Lesson 4: Stockinette stretches A LOT
I began attaching the center panel to the cabled border and realized I was aggressively pulling on the border to ease the center into the seam. (It started to resemble a bubble hem. It was bad.) What happened? Well, the sheer weight of the piece had pulled it all to hell. I didn't want to cut the fabric, so I ripped out the seams, remeasured the gauge, recalculated the specs, ripped the whole panel, and reknit the center square. (FYI – machine knitting takes less time than handknitting, but it still takes a lot of time.) So even though I'd "run out" of yarn 20 rows early, I still had made a center square that was much larger than needed. Gauge is a b*tch. Oh, and after reknitting, I had over 50 g of yarn leftover. Grr…
Lesson 5: Linked seams are rigid
If you look at the seams of your storebought sweaters, you will find something called a "linked seam" holding the sleeves and sides together. It is exactly like a chain stitch that has two layers of fabric between the top and bottom. (Hague in the UK makes a linking machine, it's probably one of the more popular manufacturers of home linkers.) This is a great way to seam shoulders because it will not stretch and lose its shape. It's also superfast to do, makes a handsome seam (on both sides), and is easily ripped out and redone if you didn't quite match the 2 sides perfectly. (Directions are here.) I used it to seam an Aran sweater (AS St. Brigid) with great success.
However, using a linked seam to attach a rigid fabric (cabled border) to a soft fabric (stockinette center) was a bad idea. It feels hard, like the beam across your back when you sleep on a flimsy sofabed. It had little give, particularly when compared with the center, and I thought that the center would bulge over time because the seam would prevent the border from stretching with it. I ripped the seam out (again) and used mattress stitch (on the sides) and grafting (on the top) to attach the center to the border. It looked and felt MUCH better.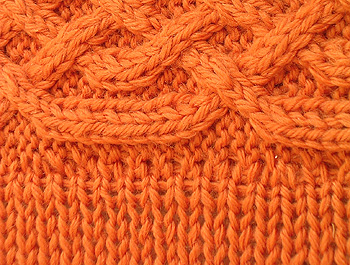 Grafted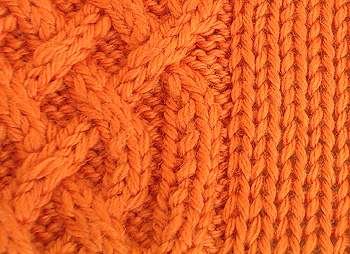 Mattress stitch
Lesson 6: Take notes when grafting
I'm lousy about taking notes when I knit. Part of it is due to laziness, but part of it is due to ego and the confidence that I can "read" the knitting and understand what I did, even if I don't remember the details. I screwed up both regions of the blanket that needed grafting. Let's look at the blanket again: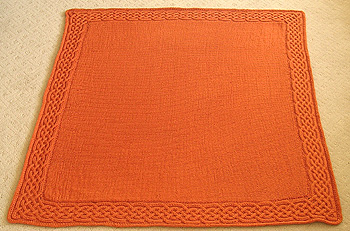 The I-cord in the lower right corner has a tiny dimple where it pulls in slightly. I started the border by doing a few rounds of freestanding I-cord and begain attaching it to the blanket after 3 or so rounds. When it came time to graft the end to the beginning, I unpicked the free rounds and attached the 2 sides together. When I graft, I typically use loose stitches and tighten later. I didn't mark the grafting row before I put the blanket away for a week, and when I went to tighten the stitches, I couldn't tell where the hell it was. I started tightening what I thought was the loose row, but I was wrong. I went backward and forward, trying to find that area, and I just ended up tightening the entire section. I gave up, snipped the loosened loop of yarn, and wove in the ends.
The grafted section of the border also appears in the lower right corner – in this case, it's where the right side meets the corner, before the corner turns left. I had knit a few rows of waste yarn before beginning the cable crossing, but I could not for the life of me tell if I had begun using the orange yarn on a right or wrong side row. (Do I cross the stitches and then graft? Knit the row of crossed stitches and graft?) I guessed, grafted, and I think I guessed incorrectly because it looked sort of like I had 2 consecutive wrong side rows. However, I was able to tighten that row and minimize its height, so it doesn't look too strange. To an untrained eye, I think the mistake and correction are invisible.
Lesson 7: Check your knitting frequently
I knit most of the border during the bus commute home. It's a warm ride and feels like a gentle rocking sensation most of the time. I kept doing this "drowsy knitting" thing that seemed like a good idea at the time but was in fact bad, bad, bad, and dumb. I can't tell you how many times I knit each corner (mean, 3) because I screwed up the miter. I can't tell you how many FEET of border I ripped out after I repeatedly discovered mistakes 6 inches below where I was working.
Lesson 8: Hair clips make great seaming aids
I liked the idea of knitting clips, but I thought mini hair claws would do just as well. I was right! They were a lot cheaper – I think I got 18 clips for $2.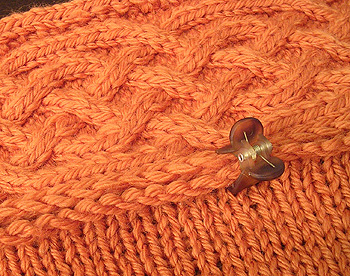 Final thoughts:
I always strive to do projects that will teach me more about knitting. I designed this project to learn how to make mitered cable corners. Well, I got more than I bargained for! Although I ran into a surprising number of problems with this project, I feel like I weasled my way out of every mistake. In fact, I feel really good about this blanket because it is absolutely as perfect as possible (for me). I may have a little crazy streak, but dammit, I wanted to do it right. What is the point of doing second-class work?
After I took the photos, I gently washed the blanket. I wanted to know if the center would stretch or bulge when wet. (Honestly, I had no backup plan if the blanket looked like hell after washing.) I got one break during this project – it looked fine after washing and is drying as I type. It will go out in the mail this week.
This yarn splits easily because it is spun and plied loosely. For the price, the yardage is low. I will not use it again.
For Joy, who I teased about showing us the underside of the her recently finished baby blanket: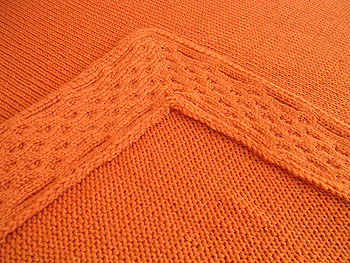 So that's it for this project. We've made Blanketade.