I decided to do Eunny's mitten pattern as a little pick-me-up because I could use a little knitdistraction. Right in the beginning of the pattern, it says something like she assumes you know how to do a tubular cast on. I read that, and I'm all yeah, I know my tubular cast ons and tubular cast offs. But it's been a few years, so I did a quickie refresher by checking teh interwebs, and I find clear and similar instructions here and here, so I'm all set.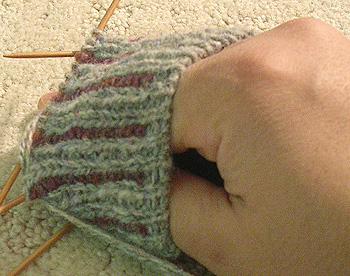 Except I overlooked some little thing about a stockinette tubular cast on vs a ribbed tubular cast on, and it won't. fit. over. my. hand. Great googly moogly!
I ripped it out, followed Montse Stanley's tubular cast on (the one with the yarnovers), and now it fits over the moose knuckles.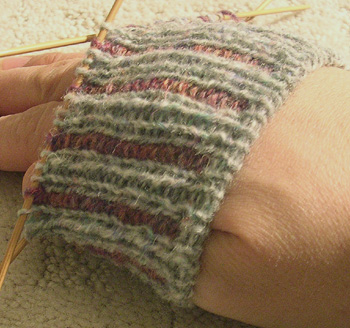 Because I can't seem to leave any pattern alone, I also monkeyed with the colors. In an attempt to use stash yarn, I pulled out my palette of J&S Shetland samples and picked what I thought were coordinating colors. The first attempt (unpictured) combined grey and lavendar for the background and a series of purplish-pinks for the contrast. The background colors were too different in value and formed stripes that reminded me of sports socks. The next try came out much better – the changes are so subtle that I'm not even sure I can see them.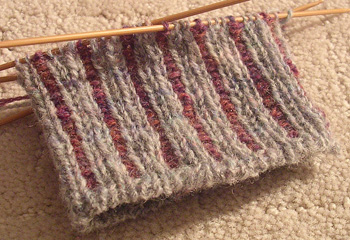 The color is pretty accurate in the last photo. I like!