I tried making pita bread last summer, but I ended up with… Well, I don't know, pan-fried dough, I guess. It was good, but I wanted something that actually had a pocket on the inside. This time, I was successful!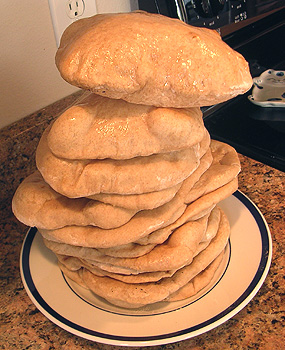 Isn't that awesome?!
The recipe come from Saveur, a cooking magazine that I really hated. (Pretentious, for one. Unappealing recipes. A lot of advertisements. Sections on travel were useless to me.) I bought a 2-year subscription because I felt sorry for the door-to-door salesman who pitched it to me. (One year left to go…) I'm so glad that I got at least 1 good recipe out of it. They credited Claudia Roden for this one.
1 pkg yeast (I used rapid rise, but I recommend using regular yeast)
1/4 tsp sugar
2 c whole wheat flour
1 1/2 c bread flour
2 1/2 c all purpose flour
2 T olive oil
1 T kosher salt
The original recipe called for 6 c of unbleached all purpose flour, but I wanted to make a whole wheat version and also ran out of bread flour.
Proof yeast with sugar and 1/2 c of warm water. After 20 minutes, add 2 c of warm water. With the mixer on low, add 1 c of flour at a time, kneading until incorporated. Cover and let the dough rest for 30 minutes. ETA: Add the oil and salt. Knead again until dough is smooth and elastic (medium speed, 7-10 min). Cover and let rise until doubled.
Heat a pizza stone and oven to 500 F. I let this heat for a long time (~45 min) to make sure the stone was ready. Separate the dough into 16 balls, keeping the unused dough covered. Flour each dough ball and roll into a 7″ circle. Cover and let rest for 20 minutes.
Slap 2 or 3 circles on the pizza stone and bake for 4 minutes. (I had a hard time keeping the dough from stretching when I transferred it to the stone. Maybe I rolled it too thin?) They will puff up like magic! This was the most supercool baking moment EVAR.

I buttered them after I took them out of the oven. So good! I think I will have to make falafel again.