I can't remember the first time I tasted a slice of Greek spinach pie, but I'm certain that I was hooked with the initial bite. This is so easy to make, I wonder why I don't do it more frequently.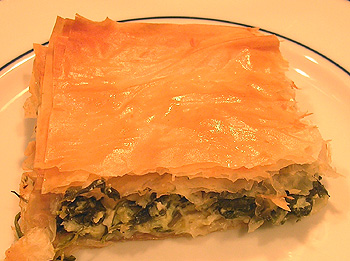 1 lb baby spinach
3 cloves garlic
1 bunch scallions
1 bunch parsley
1 pck fresh dill (chopped, this is ~1/4 c)
8 oz feta cheese
fresh-cracked black pepper (to taste)
[fresh-grated nutmeg is a common option, but I omit it]
2 eggs
Olive oil and a pastry brush (or cheat and use Pam spray)
1 box phyllo dough (check the freezer section, usually by the pastries)
Heat oven to 350 F.
Chop garlic, scallions, parsley, dill, and cheese. Saute garlic and spinach in a little olive oil until the spinach is wilted. Remove from heat, add scallions, parsley, dill, cheese, and pepper. The salt from the cheese will cause a lot of liquid to come out of the spinach. You could plop the greens in a strainer or squeeze the liquid out with your hands (more effective by squeezing). Scramble 2 eggs and blend into the spinach mix.
Separate the phyllo dough into 2 stacks. Keep 1 stack covered. Oil a 9×13 baking sheet, lay down 2 sheets of dough. Oil the top layer and add 2 more sheets. Alternate 2 sheets of dough with a coating of oil until half the dough (1 stack) is in the pan. Spread the spinach mixture evenly across the pan. Top with remaining dough (spreading a coat of oil every other sheet). Bake until golden brown and crispy. I used a convection setting, so I'm not sure of the time for a conventional oven – start with 30 minutes and keep an eye on it, I guess?
The dough will be flaky and crispy, and the spinach filling will be salty and cheesy. It's wonderful!
For my latest batch, I wrapped 1/4 c of filling burrito-style in a doubled sheet of unoiled dough. (It's about the same size as a "hot pocket" sandwich.) After wrapping, they were sprayed lightly with olive oil, parbaked at 350 F for 15 min, and individually wrapped and frozen after cooling. To eat, just bake at 350 F for 30-40 min or until golden brown.