Matt loves cheesecake. He even took me to Muddy Paws last year, and when does Matt seek out a specialty restaurant? (Let me answer that one – Never!)
I guessed that a homemade cheesecake was overdue. I bought a 7″ Kaiser springform pan from Kitchen Window, a fun gadget store for cooks (like Sur La Table or Williams Sonoma). I pulled out the New Best Recipe and tried their New York cheesecake. It is definitely not for the health conscious. I halved the recipe (original recipe shown below – suitable for a 9″ pan).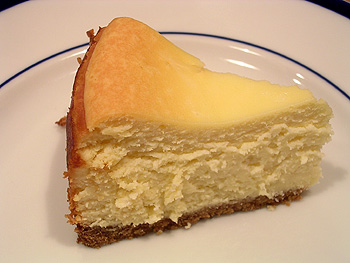 Crust
5 T unsalted butter, melted
4 oz graham crackers (8 whole crackers), ground to crumbs
1 T sugar
Filling
2 1/2 lbs cream cheese – cut into 1″ chunks, room temp
1/8 t salt
1 1/2 c (10.5 oz) sugar
1/3 c sour cream
2 t lemon juice
2 t vanilla extract
2 large egg yolks, room temp
6 large eggs, room temp
[Updated 11/23/17]
Heat oven to 325 F. Grease the bottom of a 9" springform pan (no flour spray). Combine crust ingredients and toss with a fork until evenly moistened. Empty crumbs into pan and press (use a measuring cup bottom and spoon to distribute crumbs evenly). Bake for ~13 minutes or until fragrant and brown around the edges. Cool on a wire rack while making the filling. Change oven temperature to 425 F.
When making filling, the bowl must be scraped repeatedly to ensure complete mixing.
Beat cream cheese at medium-low for 1 minute, scrape. Add salt and about half the sugar, beat 1 minute, scrape. Add remaining sugar, beat 1 minute, scrape. Add sour cream, lemon juice, vanilla, beat 1 minute, scrape. Add egg yolks, beat 1 minute, scrape. Add 2 eggs, beat 1 minute, scrape; repeat until all eggs are added. Filling should be runny and homogeneous.
Apply cake-strips to the pan to promote even cooking. Place pan on a rimmed sheet. Grease sides with butter (no spray). Pour in filling. Bake for 10 minutes and reduce heat to 200 F (do not open the oven). Bake until center of the cake registers 150 F (stick probe in via the side if possible), ~1 hr. Higher temps will cause cake to crack. Cool in cracked-open oven for at least 1 hr, at room temp for ~3 hrs. Run a knife around the edge of the pan, cover in plastic wrap, refrigerate for at least 3 hrs. Bring cake out of fridge ~30 min before serving.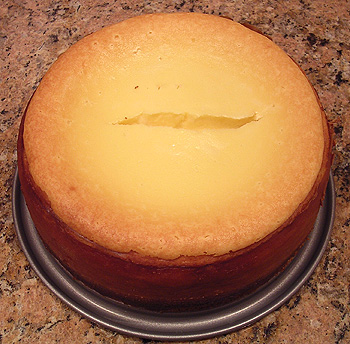 Hah! What is wrong with this picture?!
The cake rose above the rim of the pan but did not spill. It sank back down after cooling. I think I looked at the cake ~60 minutes into the bake time; it seemed woobly and underdone, so I didn't measure the temp at that time, but by 70 minutes, the San Andreas fault had developed. It still tasted great, and if the texture was "wrong," neither of us noticed.