I decided on a project for the spindle-spun blue silk yarn. I wanted something that would be triangular and harmonious with the color. I selected the Peacock Feathers Shawl by Dorothy Siemens, who I think has quite a gift for lace design.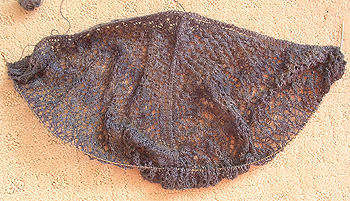 Here's what I've got so far.
Eunny knit this a while back, and I noticed she used US 1 (2.5 mm) needles (the original pattern calls for US 4 [3.5 mm] needles). Eunny's shawl still came out really big. I decided to go with US 0 needles (2.0 mm) because I didn't want a really large shawl, I dislike oversized yarnovers (I hate when my finger gets stuck in a lace pattern after blocking), and I thought the thin yarn would be better off with smaller needles.
When I can, I like to do a little "carpet blocking" to open up the pattern and look for mistakes.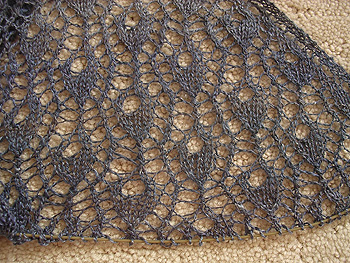 This may be the first time I am knitting with pure bombyx silk. This stuff is SLIPPERY AS AN EEL. I've never seen a dropped stitch run down so fast.