The uncooked lo mein was held in the refrigerator overnight, and the noodles did not stick to each other during that time. (I did notice a little condensation on the inside of the bowl, though.) I cooked the noodles and baked the pork on day 2. This recipe is adapted from The Modern Art of Chinese Cooking.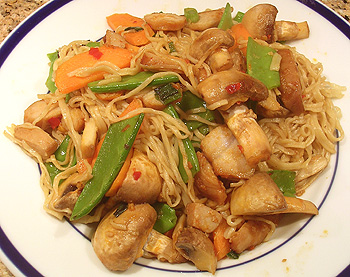 3/4 lb Chinese egg noodles
1/2 lb char siu pork (cooked)
8 mushrooms
1/4 lb snow peas
1 large carrot
1 T ginger grated
4 cloves garlic
1 1/2 t chili garlic sauce
1/4 c vegetable broth – (or chicken broth)
2 T soy sauce
1 T sake
1/2 t sugar
1/4 t kosher salt
Boil noodles until just underdone, toss gently with a little sesame oil (and salt, if desired). Set aside.
Cut pork into bite size pieces, set aside. Cut mushroom into quarters, remove strings from snow peas, cut carrot into bite-size slices, set aside. Mix ginger, minced garlic, chili sauce in one bowl; mix broth, soy sauce, sake, sugar, and salt in another.
Heat a large nonstick pan, swirl in a little oil, and add the ginger mix until aromatic (10 seconds). Toss in vegetables, stir briskly until carrots are crisp-tender. Remove to a separate dish.
Wipe the pan, add a tiny swirl of fresh oil, and dump the noodles into the pan. Cook without frequent stirring if you want crispy edges, otherwise keep the noodles moving. Pour the broth mix into the noodles. When most of the liquid is absorbed, return the vegetables and pork to the pan. Toss briskly until everything is thoroughly heated and the liquid is gone. Serve immediately.
This was really good. Even though Matt made horrible faces when he saw I had added evil mushrooms, he went back for a second serving. It's hard for me to cook meals that require this much advance planning (I'm much happier when I can decide what I want and then eat it 30 min later), but I'd do this one again.