I know you've never seen this before: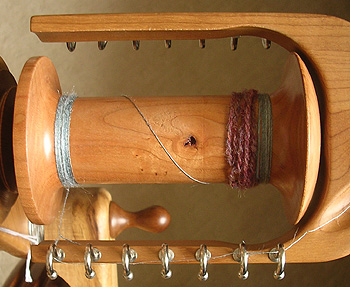 Fat-core bobbin, custom made for my wheel
Let me tell you this wonderful story. When I ordered my Drudik wheel in 2000, I tried to time it such that the wheel delivery would roughly coincide with the anticipated completion of my doctorate (a congratulatory gift to myself, as it were). I figured the money situation would be tight with me fresh out of school, so I ordered only the minimal number of bobbins and passed up the lazy kate. I typically used storage bobbins anyway, so it wasn't a big deal. However, after we had loosened our grip on the discretionary spending wallet, I tried to order more bobbins (someone scared me by asking what I would do if, say, a visiting kid broke one), but MD had so much other stuff on his plate that my request was probably shuffled to the bottom of the stack.
In January, Theresa emailed to say that she'd noticed I had left a comment on Franklin's 'blog wishing out loud for more bobbins, and would I like to talk with her dad, a retired-engineer-cum-woodworker-extraordinaire who could probably make me some awesome new bobbins?
Yah, you betcha I would!
Working with Jim W was an all-around fantastic experience. Anyone who knows me even a little knows that I have a wide streak of technical geekery that makes me relatively hard to please because I can spot imperfections in nearly everything (really, I can't help it), plus I'm a control freak communication fanatic who wants to know exactly what is going on all the time. Jim said that as an engineer, he appreciated where I was coming from, and we had a good understanding from the very beginning.
We agreed on the price and started the project. It began with me sending photos, descriptions, and a sample bobbin. He sent back photos, a test bobbin, and a micrometer to take measurements. We discussed wood types, finishes, what additional photos that I needed to send, etc. He regularly e-mailed progress updates. Eventually, we decided that I needed to send the entire maiden to him to truly perfect the new bobbins. (Thank the FSM that nothing was damaged or lost by the postal service.) From start to finish, it took about 2 months, although honestly, most of that time was because I was super slow to send photos and stuff.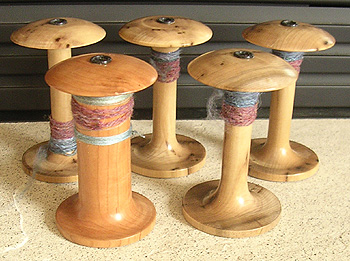 I ended up getting 4 regular bobbins (in matching myrtlewood) and 2 fat-core bobbins ("found" cherry; 1 not shown here). They all work superbly with the wheel. I think that this kind of project posed unique challenges – essentially, I was asking Jim to duplicate another artist's work, and I needed the bobbins to work seamlessly with a product that was handmade and designed by a stranger. As knitters, we often have trouble matching a designer's gauge. As spinners, most of us have some degree of difficulty matching the grist we spun last week. I can't imagine that it's a simple straightforward thing to copy a wheelwright's bobbins.
Jim did a really great job. The bobbins are beautiful to look at and feel wonderful in the hand. He exceeded my expectations, in fact. (I particularly appreciated the regular e-mails. Not to generalize too much, but other men are not so good with the communication.) I'm especially excited about the fat-core bobbins, they prompt me to dream about many lace projects.
Thanks again to Theresa for introducing me to her dad! I recommend his work highly and without a single reservation.