A few weeks ago, I finished knitting the Peacock Feathers shawl!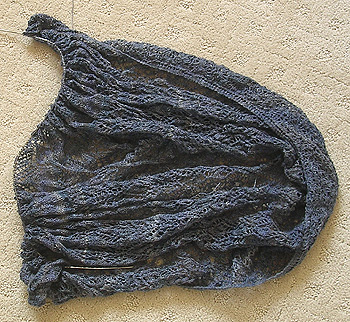 Looks like a mess, doesn't it?
I carpet-blocked as I added the crochet edging. I used the same hook size as needle size (2 mm) but added 10 chains per loop. You can sort of see the subtle color shifts (almost stripes) in this photo.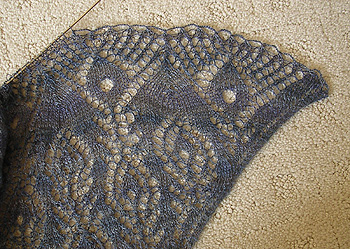 I washed the piece and let it dry. On Juno's recommendation, I bought interlocking foam floor covering pieces as a blocking surface. I purchased the alphabet and toy sets because we were expecting little kid visitors then, and I thought it might entertain them and thereby serve a double purpose. Having heard horror stories about back pain after pinning pieces on the floor, I pinned it on my dining table (and smugly felt nary a twinge).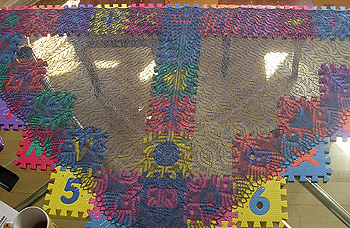 To block, I started with the washed-and-dried shawl and put a pin in each corner. I bisected the distance between each pair of pins with another pin until I caught every edge loop. I steamed the shawl several times and let it dry under tension. I wove in the last few ends (I never weave tails until the piece is blocked), clipped the tails, and breathed a big sigh.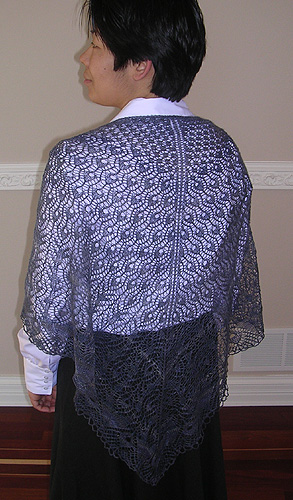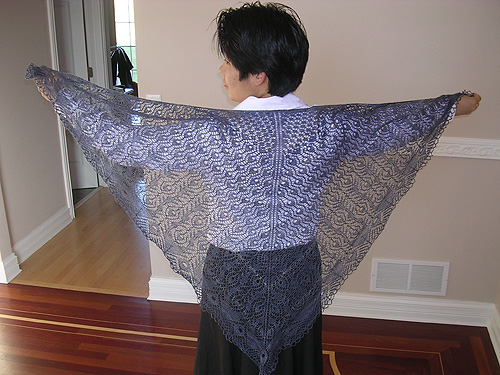 Dimensions: 64″ (top) x 32″ (center)
Needles: US 2 (2 mm)
Yarn: My handspun (Chasing Rainbows bombyx silk top, colorway "Moody Blues," spun with a Bosworth mini spindle, plied [2 ply] with a Bosworth midi spindle)
Weight: 65 g (2.3 oz)
Approximate yardage: 715 m (782 y)
Some closing thoughts: 1) I spun this without a standard and was pleased to see that I can get a consistent grist even when "winging it." 2) Silk is highly susceptible to static. This shawl does not flutter freely, it clings to my clothing even when I walk quickly. 3) Thank FSM that this blocked large enough to not be a giant arrowhead pointing to my butt. 4) I bought the white shirt seen above specifically to provide contrast with the shawl and bring out the stitch pattern. Yes, I'm that vain.
I guess it's time to get back to Matt's sweater! Have a great weekend, everyone.