The Shepherd's Harvest show was a blast! Unfortunately, I can't show you the vendors or cute animal pictures because I had total camnesia – that is, I left my camera at home. (I guess I was too excited about the show!) Torild did bring her camera, though, and she shared a few shots with me. I note that she too was humming a sheep-and-wool tune when she got in the car. (Hi ho, hi ho, it's to sheep and wool we go…!) We all have sheep and wool songs!
ETA: Susan has some nice photos and a summary of the show here.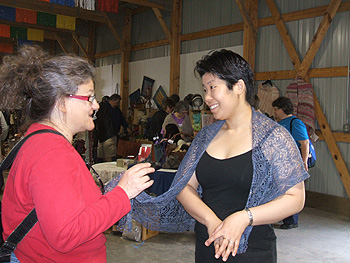 Gossiping with the fantastic (but blogless) Shelley H – she's telling me that I'm wearing my shawl backward.


Border collie herding demo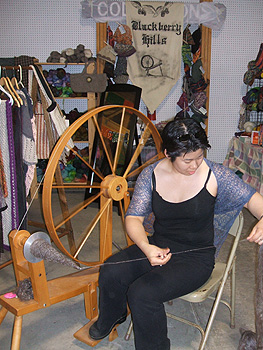 Checking out a Rio Grande wheel
The show was a lot of fun. Given that I'm used to MDSW-sized crowds and vendors, I found our local show to be quite cozy (~2 1/2 barns of vendors and maybe 1/10th the number of animals on display). Most of the yarn seemed to be from family farms and were millspun by small carding operations. Some had pictures or names of the sheep that produced the wool for the yarn. I love when shepherds do that!
I saw a lot of rughooking vendors, probably an equal amount of raw fleece and processed roving, and little commercial spinning fibers (eg, Ashland Bay). I saw no spindle vendors or carder manufacturers, and I found only 1 booth with lots of spinning wheels to try (Jensen – more below). Other booths with wheels on display had put them high on shelves and had put fiber or whatnot on the treadles. It looked like they didn't actually want you to try the wheels (and most vendors had only 1 chair). The Rio Grande above was someone's personal wheel (it was made in the mid-1980s and is in great shape).
We spent about an hour observing sheepherding dogs in action and listening to the Q&A about Border collies. We also watched a flax-to-linen demo. That was really something – what a hella lot of work that is just to make the fiber ready to spin. We had a brief celebrity sighting (Norman Kennedy). We waited in line to eat lambburgers and fresh cheese curds (delicious!), plus Torild and I shared a tasty bag of kettle corn during the dog demo.
I did sit down in front of a Jensen D30, which was quite beautiful. I can't give a full review because I only spun for a few minutes. However, I note that the wheel is not as heavily rim-weighted as the wheel I own, so it stops very quickly when you stop treadling. The ratios cover a wide range, and the wheel treadled smoothly at the highest ratio that I tried (13:1). The wheel knocks down somewhat (you can lift the drive wheel off the frame), and the whole thing is pretty lightweight, maybe 15 lbs. (Does a 30-inch wheel really weigh less than my cat?) The finishing work was nice – I loved the finials and decorative turnings. For a handmade wheel, the price can't be beat (~$1650). I can see why Jensen wheels have such a enthusiastic fan base.
What did I buy at the show? Well, let's see…
Hillside Honey & Crafts (no Web presence): 2 4-oz skeins of DK weight blue yarn, untreated but supposedly machine washable (Rambouillet and Lincoln cross wool)
Handspun by Stefania: 10.7 oz of Corriedale and silk, dyed with madder and osage orange (I think), respectively. I'm glad that MDSW shoppers didn't completely empty her inventory!
Lone Tree Wools (no Web presence): Dyed silk hankies
No vendor name on the receipt: Crystal Palace bamboo sock needles (US1, 6″ length)
Morning Sun Fiber Barn: 4 oz of blue pygora blended with lavender silk (~85/15)