When I purchased the silk hankies at the Shepherd's Harvest show, the seller asked me if I knew how to use them. I wondered to myself, do people often buy things they don't know how to spin? Well, if that's the case, I thought I'd write up a little picture tutorial for spinning silk hankies.
Silk hankies are made by partially degumming the cocoons, opening them up to remove the bug, and spreading the fiber on a square frame. You can read more about the process here.
1. I have 1 dyed hankie draped over my hand – note that it is a very thick layer of cocoons, and you can barely see the outline of my fingers through the fiber.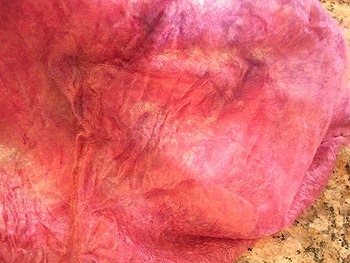 2. The different layers are obvious at the edges. Grasp one layer and tease it away from the rest of the hankie.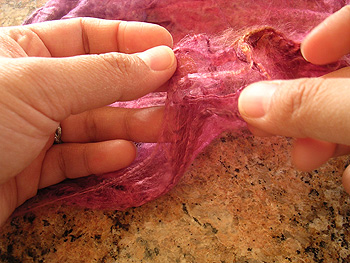 3. Gently peel the layer away.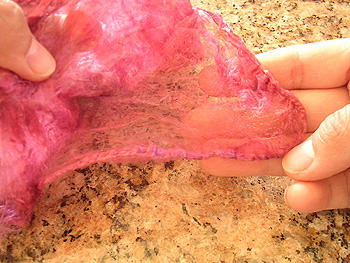 4. This is a single cocoon. It is transparent.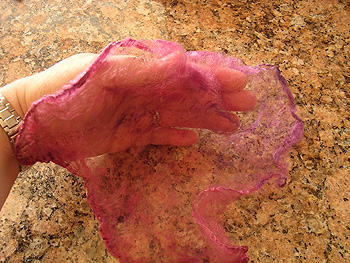 5. Make a small hole in the center of the hankie.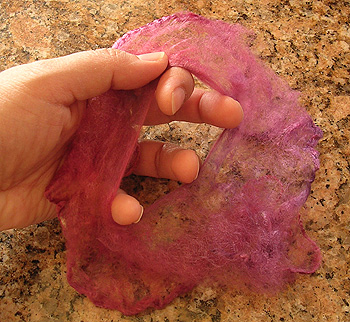 6. Widen the hole and stretch the hankie into a loop.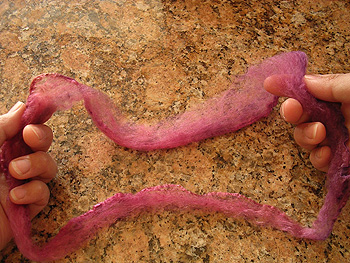 7. Begin pulling the fiber into a narrower strip and larger circle. The fiber will tear a little. This is normal. Nubs that don't draft smoothly will show. This too is normal.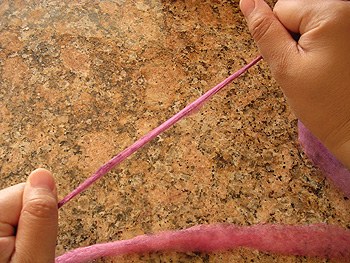 8. Draft in a continuous circle until the fiber forms a roving that is near or at the width of the desired yarn diameter (ie, no more drafting is needed, only need to add twist to make the final yarn).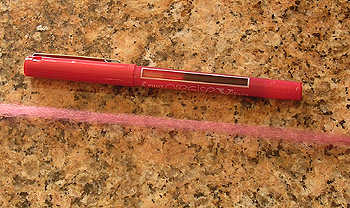 9. I keep it in the closed loop stage until I finish drafting.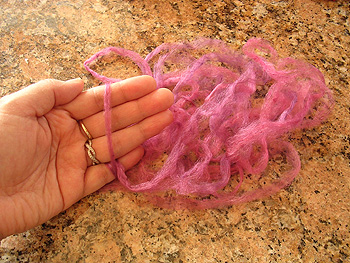 10. I break the loop (now it's a long piece of pencil roving) and spin it onto a spindle.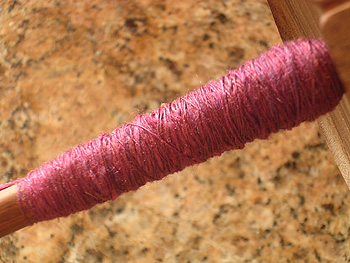 And that's it! Piece of cake! I haven't timed myself, but I think it takes ~15 minutes to draft and spin 1 hankie. It's a good break between timed chores (ie, 30 min of cleaning the kitchen, spin 1 hankie, 30 minutes of sorting and paying bills, spin 1 hankie, etc).
I've heard repeatedly that you can't draft after you've begun spinning because the twist locks the fibers in place. I'm not sure if that's always true. You can still draft – yes, you are breaking fibers, but you're doing that during the entire drafting of the cocoon, anyway. It's possible that it would be much harder to draft roving that results in a thick single, but I had no difficulty doing a little last-minute thinning of the roving while I was adding twist.