Treadmill workstation
Saturday May 26th 2007, 12:33 pm
Filed under:
Misc
I thought it might be fun to show you my office. This is what you might see when you walk in the door (and stand in the corner).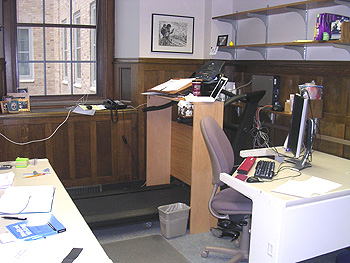 Why yes, that's a walking workstation in the back! (Tons of information in that link, btw. Please detour there when you have time.) I use a Smooth 7.1HR treadmill (discontinued; I've linked to the Pro model) that I bought used through craigslist. I built the maple shelf that goes around it. The desk is crude but reasonably stable. I'd like to build a second one soon (a wider working area would be wonderful).

I usually edit everything electronically and keep a monitor and keyboard over the treadmill. However, I occasionally will review a manuscript by hand if the author requests it. That's what I was doing when I took these photographs.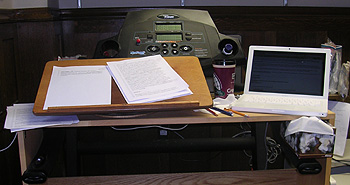 Above is a slanted podium with the manuscript in progress (note the pencils and eraser), but I keep my laptop at the ready because I look up a gazillion things during the course of editing a single paper. I also have room for a cup of tea, and I have a box of tissues tucked under the desk because I work in a historic building and inhale a lot of 100-year-old dust. Achoo!
If I look behind me and to my left, I see photos of friends and family. Raise your hand if you recognize yourself! If you're wondering why I don't have a photo of Matt, well, I do, just not there. (A photo of us is straight ahead of me on the shelf behind the treadmill console. No twisting needed to look at my husband's smiling face!)
Sometimes I will work while standing only (not walking), but other times, I really have to get off my feet. Although I normally have my main computer on the treadmill desk, when I'm tired, I move everything to the seated desk.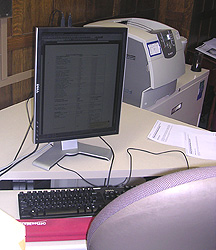 Note that I've turned the monitor on its side. Given that we work with a lot of footnotes, the constant scrolling up and down to read footnotes and main text is vexing in landscape mode; the portrait view allows me to see a full "sheet" of paper.
The idea underlying walking-while-working is called non-exercise activity theromogenesis (NEAT), and research in this area is led by James Levine (a Mayo endocrinologist, not the music director). The basic premise of NEAT is this – miscellaneous and minor physical activities performed throughout the day may be enough to keep a person from becoming obese. These activities include walking, fidgeting, standing, washing dishes, yard work, playing active video games (eg, Dance Dance Revolution), etc.
A couple years ago, Levine's group showed that lean people are on their feet and moving about for ~2.5 hrs more per day than obese people. (Specifically, lean folks were standing and ambulating for 526 min/day, and obese folks were standing and ambulating for 373 min/day.) These 2.5 hours are not spent exercising, rather it's time that the lean people are not sitting. The Science paper that described this research is here and definitely is worth reading (email me if you can't see the actual paper). The most recent work from the Levine lab is summarized here. They measured energy use of obese study subjects who were walking on a treadmill or sitting and determined that subjects burned roughly 100 more calories per hour when walking at ~1 mph.
The treadmill desk idea was pioneered by Levine (his first model apparently was nothing more than a cheap Sears treadmill with a laptop placed on an over-the-bed hospital desk), and many have made their own version of the desk since then (see the aforementioned squidoo lens for more info). One jokingly refers to his setup as the "iPlod." I'm not aware of a commercial source of treadmill desks, but rumor has it that a deal is in the works.
I had my setup installed in September of last year and have walked nearly 650 miles to date. I typically keep a pace of 1.5 mph and walk a median of 4.8 miles per day (3-4 hrs). I aim for 5 miles per day, but sometimes meetings, piles of desk work, or tiredness prevent me from achieving that goal. If I walk more than 6 miles, my legs and knees invariably ache, so I usually stop at 6 miles if I make it that far. My feet tend to pound when I'm not thinking about it, and my somewhat swaybacked posture definitely could be better while I edit, but on a typical day, nothing hurts, nothing is sore, and I feel only a little tired by 5 PM. I usually wear running shoes (and colorful handknit socks!) when I walk, but sometimes I'll wear Birkenstock sandals. Both are comfortable.
For me, walking is not particularly distracting to the work – I would say it is about the equivalent to listening to an engaging audio book while driving. Most of the time, I can perform both tasks perfectly. However, when I really have to think hard about something, I turn off the machine and just stand there until I work all the kinks out of the problem. I can also make and receive phone calls while walking, and no one is the wiser – they don't hear the treadmill, and I am not huffing and puffing. At that speed, I don't sweat and am comfortable strolling in my (business) clothes.
I think everyone in the office wondered or worried about how walking might affect the quality or speed of my work, but all signs are pointing to "not at all." I even received praise last week from an author after a rush assignment (he thanked us for our "splendid" and "excellent" work). If anything, walking helps me stay a little more alert. In my seated-desk days, I found that I was always getting sleepy around 2-3 PM, but this rarely happens now. The constant moving around keeps my blood flowing, and I stay alert and efficient in the afternoon.
I bought a high-end treadmill to ensure that it would be very quiet, and noise has not been a problem for anyone in the offices around me. They either cannot hear it at all or think it sounds pleasant, like white noise. You might be wondering if I have lost any weight since September. I have not. However, I haven't gained any weight, either. I sort of stopped going to the gym after I got the treadmill because I made excuses (well, I've already walked 5 miles today…), but I'm trying to get back in the rhythm of working out during my lunch hour. Everything is a work in progress, right?
If you have other questions about this, please ask! I think this is a great way to work and hope others will bring the walking workstations into their offices.

Print This Post