I've been working primarily on Dad's vest this past week. I took measurements from the second swatch after washing and plugged them into Sweater Wizard, using the template I generated for last year's vest. After hearing other knitters rave about it, I tried the new-to-me tubular cast on, using directions found in Montse Stanley's Reader's Digest Knitter's Handbook. I used US 000 needles for the cast on itself, but it is still a little loose-feeling for the US 1 ribbing that follows. It's not terrible, and I'll use the same cast on for the front, but I'm not 100% satisfied with the transition between the edge and the ribbing.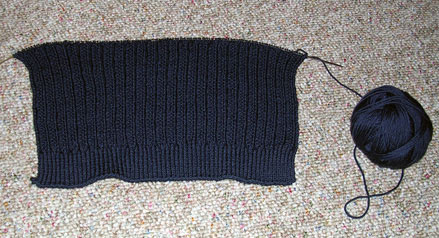 About 8 inches into the back
On the spinning front, I did manage to spin my first skein on the Drudik wheel. This is a 2 oz sample of black alpaca, I think it is an Ashland Bay top. It is a 2 ply yarn, laceweight, and fairly tightly spun. Alpaca is a hair fiber and quite slippery! This particular prep isn't made of the softest fiber, but it is pleasing to touch and is almost exactly like my own hair color!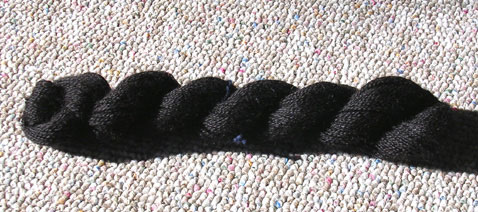 Like everything else I spin, this will also go back to the stash for aging.