I'm a member of a YahooGroup called "Productive Spinners." Three years ago (how time flies!), our List Mom and her then-boyfriend (now husband) made special spindles for the members. It was a pure labor of love – what better gift to give a group of spinners?
Sorry for the slightly blurry photo (no real macro setting on my point-n-shoot camera), but hopefully you can see the sheep with a spindle in one hoof and a sock in the other.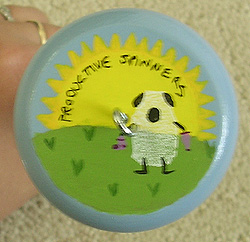 Numbered, signed, and everything: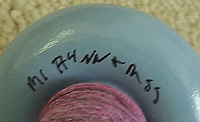 I thought it was adorable but never spun anything of significance on it because I liked heavier spindles at the time. But now that I've been grooving with the laceweight spindle projects, I thought it'd be nice to try this one again.
The hook had to be replaced because I could not adjust it to the point where the spindle was balanced. (I swapped a screw-in eye hook that I pried open with round-nose pliers) and centered the place where the yarn comes off the hook. Now it spins fast and true.
I recently purchased 2 oz of Merino-Tencel (50/50) from Spunky Eclectic, and it seemed like the right project to spin fine and fast.
Colorway "Burning Embers"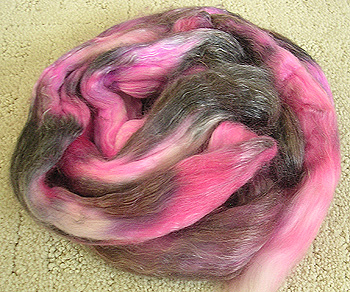 But the yarn looks more like shades of raspberry to my eye: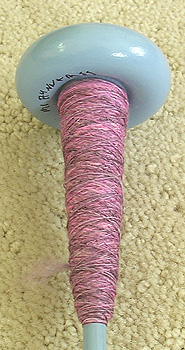 Thanks again, Talia and Michael! What a great gift – I'm honored to have it!