I'm singin' the pygora blues, baybee… I'm spinning the pygora/silk roving that I purchased at the Shepherd's Harvest show this past May.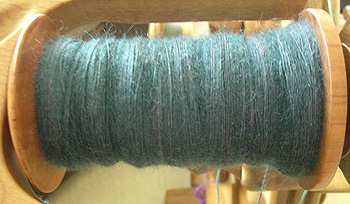 This prep isn't as good as it could be – I am picking out guard hairs that the dehairing left behind, and the fiber has felted somewhat in storage (requires careful drafting) – but the final yarn is ah-MAY-zhing, if I say so myself. I'm uncertain about the grade of fiber in this roving. It's almost as soft as cashmere, but it's shiny cashmere with a halo!
I've never spun pygora before. I want more! More!