I read about RoseLB's updated recipe for ricotta bread, and a little later, I saw that Marie also had baked this ricotta bread. I was hooked. It was only a matter of time until I tried it.
First, I made my own ricotta using this recipe. It was very rich, but ah heck, I justified it by saying the extra fat would also function as a preservative for the bread.
Second, I followed that recipe to the letter. But my loaves did not look like Rose's or Marie's loaves. 🙁 Instead of tall, compact loaves, mine were flat and spread out a lot.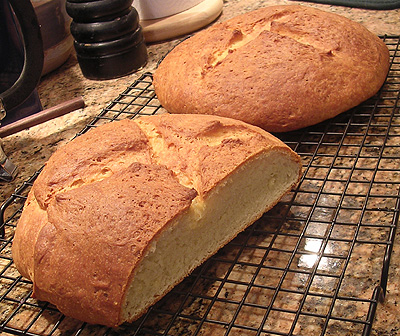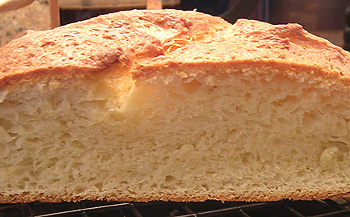 The taste was good, but it was so rich, the flavor reminded me of brioche. I think that the extra fat in the ricotta might have contributed to the spread, but I don't really know. In any case, it was tasty, and Matt and I enjoyed an entire loaf before it had time to cool.