I have a produce subscription this summer (from here), and I find myself with a lot of yellow squash these days. Matt won't eat it, and I'm trying to find different ways of preparing it.
Enter 3-cheese squash lasagna! This is a modified recipe from a slightly weird magazine, Vegetarian Times. I have a subscription to this magazine, but in all honesty, it's a sympathy subscription (I'm a sucker for young door-to-door sales people). The jury is still out on the recipe quality.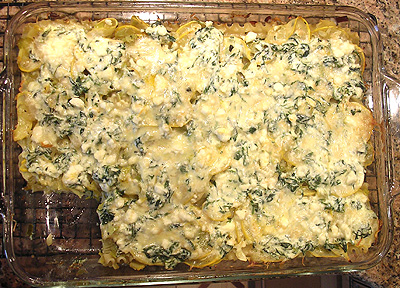 9 lasagna noodles, cooked al dente
3 medium leeks, chopped
2 large yellow squash, sliced thin
chopped fresh mint – optional*
1 lb ricotta cheese
6 cloves garlic, minced
1 lb fresh spinach, blanched and chopped coarsely
1 large egg, beaten
3/4 c feta cheese, crumbled
1 c mozzarella cheese
Saute leeks in a little olive oil and add the squash. Saute until squash is softened. Add salt and pepper to taste. In a separate bowl, combine ricotta cheese and garlic. Stir in spinach and egg.
Heat oven to 350 F. Coat a 9×13 pan in cooking spray. Layer noodles (3 per level), squash mix (1/3 of total), and ricotta mix (1/3 of total). Sprinkle 2 T of feta cheese. Repeat layers of noodles, squash, and ricotta, ending with ricotta. Sprinkle with remaining feta and mozzarella.
Cover the pan with foil and bake for 45 minutes. Uncover and bake for another 5 minutes. Let stand a few minutes before slicing and serving.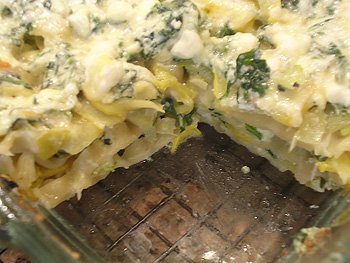 It made a lot of lasagna. I couldn't eat all of it (and of course, Matt refused to eat any of it), and I ultimately will be throwing about 1/4 of the pan in the compost pile. It tasted "just OK" (see my footnote on mint), and it would have been much better if I had used a different herb – maybe basil? Dill?
—
* The recipe called for 1/3 c of chopped fresh mint to be added to the squash after it was sauteed. One-third of a cup is a lot of mint. I reduced it to just over 1 T, and I thought the flavor was very strong. I am not a fan of mint (I like it in toothpaste, Andes chocolates, and Girl Scout cookies, but nothing else). I was not crazy about minty lasagna.