The listmom of one of my spinning e-mail groups is having a baby very soon, and some of the Invisible List Members Inside the Computer are sending her presents from all over the country to arrive during the last few weeks before her due date. I was just going to run through Target and pick up some "practical" items (burp cloths and the like), but then I remembered that this is the same person who made me a handspindle a few years ago. For her, I'd make an exception to my rule of not crafting for babies.
I'd sort of lost my creative mojo for a while this month, but it came surging back this weekend in a very unusual form – sewing! The Pointy Kitty from Wee Wonderfuls has been on my "To Do" list for ages, and it seemed like the right time and reason to dive into the project.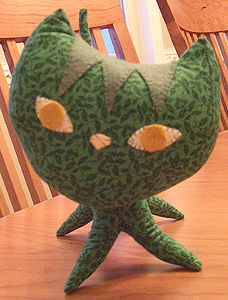 I pulled out my sewing machine for the first time in 8 months (or more?). The pattern directions were easy to understand, and the pieces fit together perfectly. The head gusset required a little easing, which I could mostly do (sort of, but I had a tiny pucker or two). My sewing and handstitching skills are pretty rough, this I know, but I'm telling myself that the uneven bits add to the folksy charm of the piece.
As the project progressed, I realized that while the handstitching wasn't looking any better, at least it was going faster. Ha! In total, this project took me about 8 hours to finish. I always forget that a sewing project generally means that you actually spend very little time sewing and much of the time cutting or pressing or doing some kind of finishing task. I spent more time attaching the felt embellishments than anything else. Also, if I did handstitching with any regularity, I'd definitely invest in a thimble, that's for sure.
Kitty is stuffed with cotton – handspinners roving, in fact. I was amazed at how much roving I could cram into this little cat. She feels almost as dense as a pincushion – she had to be stuffed fairly tightly to stand, although I suspect that the weight of the head and gravity eventually will make Kitty lay down.
Some real life cat antics – Charlie is attempting to work a Jedi mind trick on Matt for a taste of ice cream.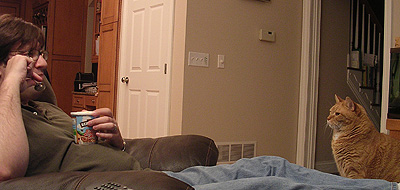 Sorry, Charlie! You'll have to do more than Jedi tricks to get between Matt and his chocolate chip cookie dough ice cream.