When I check out new Thai restaurants, I always order the same dish – a red coconut curry with some meat and veggies. It helps me establish a baseline of quality and helps me decide whether to return to the restaurant in the future. (I do the same thing with sushi restaurants – I always order the chirashizushi.)
But who says I have to go out to enjoy a good curry? I consulted my absolute favorite Thai cookbook (Real Thai, a book so awesome that it is still in print after 15 years) and modified the recipe for Gaeng Peht Neua (red beef curry) using the ingredients that I had in the cupboard.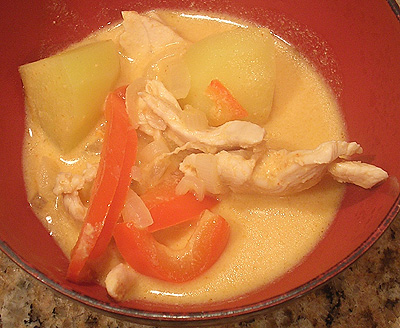 1 can coconut milk (buy one that has coconut cream in the top third of the can)
2 T red curry paste (I buy this, but you can make your own)
1 large chicken breast, sliced thin
4 small yukon gold potatoes, cut into chunks
1 red pepper, seeded and sliced thin
1 T fish sauce
1 t sugar
1/4 t salt
steamed white rice (I cooked mine in chicken broth)
Put a pan on medium heat as you open the can of coconut cream. Scoop out the coconut cream and toss it into the hot pan. Let it sizzle and watch the oil separate out. Add the curry paste and smash it around with a spatula to break it up and mix it with the cream. Let it heat for a minute or two to bring out the aroma.
Add the chicken, mix it around the sauce. When it's bubbling, add the rest of the can of coconut milk and potatoes. Stir in the fish sauce, sugar, and salt. Raise the heat slightly until you get a gentle simmer, then turn the heat back to medium. When the potatoes are nearly done, add the pepper and simmer until the pepper is no longer crisp. Serve over rice.