Big socks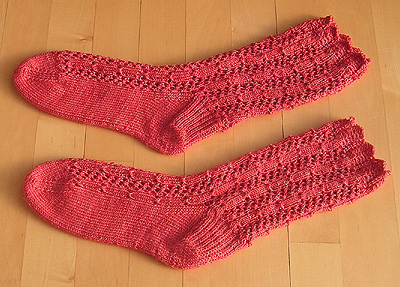 Remember these? They were first sighted here.
Pattern: Fancy silk socks
Source: Knitting Vintage Socks
Modifications: none
Needle size: US 1 (2.5 mm)
Yarn: Lorna's Laces Shepherd Sock, Poppy (2 skeins)
Baby booties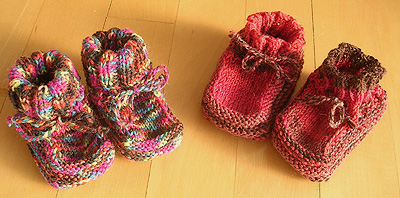 Pattern: Stay-on baby booties
Source: I started here but also consulted this pattern
Modifications: I cast on 12 st instead of 10 (but slipped the edge stitches). Instead of knitting i-cord for the ties, I took a long length of yarn and twisted it with a handspindle into a 4-strand cabled yarn. I did ribbed cuffs (foldover style [left] or knit until I ran out of yarn [right]).
Needle size: Left, US 0 (2.0 mm); right: US 1 (2.5 mm)
Yarn: Leftover sock yarn (not sure what brand anymore)
I couldn't find information about what needle size produced what size bootie, so I thought I'd knit them up and find out for myself.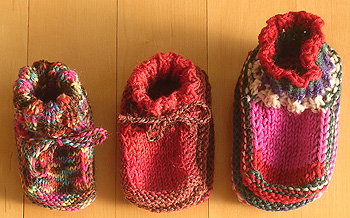 From left to right: 1) US 0 (2.0 mm) and standard sock yarn; 2) US 1 (2.5 mm) and standard sock yarn; 3) US 2 (2.75 mm) and sport weight yarn.
The first bootie seemed unbelievably small. (I thought they were too small for anything other than a preemie. Granted, I've never seen a newborn baby before.) Anyway, I found this guide to measuring kid-sized feet; if it is accurate, the bootie knit on US 0 needles will fit a newborn to 6-wk baby (unblocked length, 3″). The second bootie supposedly will fit a 6-wk to 3-mo baby (unblocked length, 3.5″). The third bootie might fit a 6- to 9-mo baby (unblocked length, slightly over 4″). The third bootie looked sort of ungainly – I didn't even bother to knit the mate or make an ankle tie for that one. I figure by the time a child's foot is half the length of mine (my feet are a little over 9″ long), normal socks with shaped heels and toes are more appropriate.