I bought 3 skeins of ecru laceweight alpaca yarn a few months ago. I dyed it last weekend using the resist-dye technique. Dyes were Washfast acid dyes, Terra Cotta over Pumpkin Spice.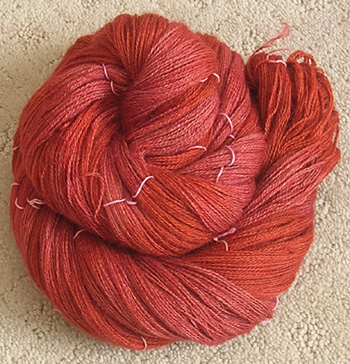 I had leftover color in the dyebath and put in some "mop-up" fiber – in this case, it was a 4 oz batt of grey Icelandic wool from Misty Meadows, a local producer.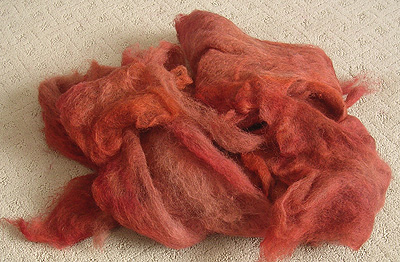 Although I have no plans for the batts, I am thinking about making a triangle shawl or perhaps a rectangular stole from the alpaca. I theoretically have 1311 yards of yarn. I found a pattern that I liked, but it calls for 1300 yards. Would you risk it?
—
More destashing – up next is a 100% wool roving. The fleece was purchased at a Massachusetts Sheep and Wool show ~4 years ago. It originally was a light brown and grey mix, and the uncovered animal that grew this nice fleece is a Merino-Romney cross. I dyed half of it purple, the other half orangey-red. The wool was carded into roving by Spinderellas – Lynn, as usual, did a wonderful job.
The downside – I think this fleece had some tip weakness. Also, I felted it a little bit during the dyeing, and that likely contributed to a little bit of tearing when the wool was picked during processing. You can see here that I needed to pick some bits out of the roving as I spun. (The picture in that link shows the amount of stuff in 4 oz of roving – too much trash to be "mindless spinning," but it still makes a very nice yarn.) I recommend spinning this somewhat tightly.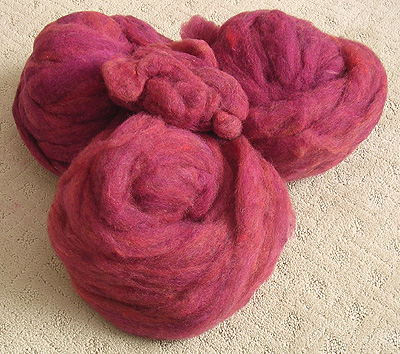 ETA – Roving has sold
The fiber has very little VM, no bugs, and no smoke or funny odors. It has been around the cats, but it was stored in a bag during that time. This is 11.7 oz (332 g) of wool. Because of the neps, I'm asking $10 for the lot, and I'll split the priority mail shipping with you if you're in the US.