For the past month and a half, I worked every weekend on sewing a pair of pants. I was revising a commercial pants pattern to make a pair of custom-fit pants with plenty of room for the baby. (My belly circumference – 38 inches right now!) I started with Vogue 8157 as the base.
I used a flexible ruler to copy my crotch curve. It's wildly asymmetric because I stopped measuring where my belly started expanding (on the left side).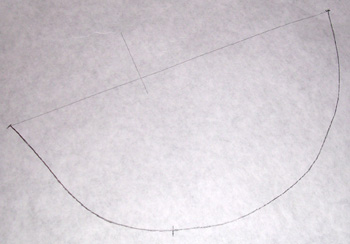 I traced the pants pattern onto butcher paper and adjusted the front and back pattern pieces to my curve.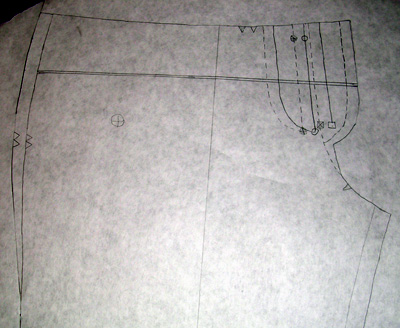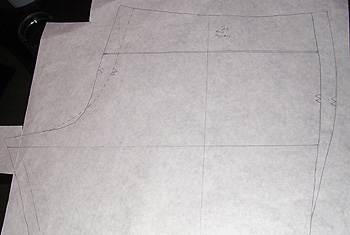 See, it matched fairly well: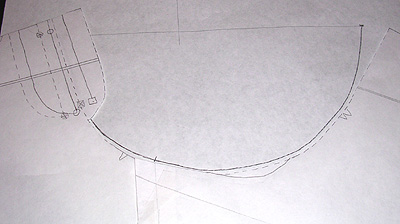 I made a mock-up garment out of cheap cotton muslin and pin-fit it following the directions in Pants for Real People. I narrowed the back width by at least an inch and shortened the leg under the knee by 2 inches. I lengthened the upper portion (the hip area) by 2 inches because I was raising the back side.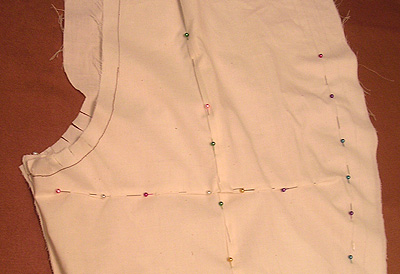 The pants still showed a lot of bagginess on the back thigh. I followed Ann Rowley's genius instructions for a "flat seat adjustment" and made a fisheye dart. Here's the flat pattern piece after I made all of the adjustments: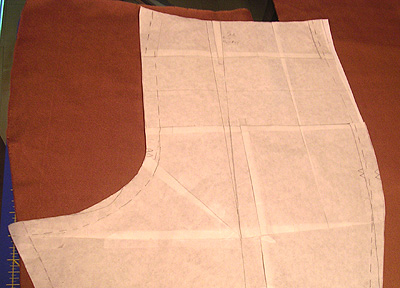 I cut out the pants from a stretch cotton woven fabric.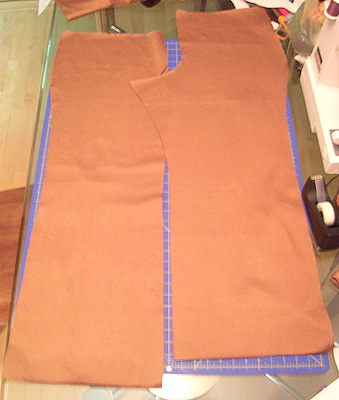 I pin-fit the fabric. Because it was stretchy material, I had to make the side seams deeper than what I had done for the muslin. After adjusting the crotch curve a little more, I was fairly pleased with how it seemed to fit.
Over the next few weeks, I slowly assembled the pants. I marked new seam lines, basted and double-checked the fit, trimmed the excess fabric, sewed the seams, established the waistline, added the waistband, and…
I tried the pants on today, and they are distressingly small. One might say that they fit… but every ripple and roll showed prominently through the too-tight areas. The look was, ummm, decidedly unattractive. I was embarrassed to even wear them around the house. I tried to salvage the pair this morning by narrowing the side seams, but it's no good, a wadder. ("Wadder" = a project that you wad up and throw out.) I don't know if it was because Baby and I have gotten considerably larger since I test-fit the pants, or if the stretchy material tricked me, or… I don't know. I just don't know where I went wrong.
*sigh*
Sewing humbles me like nothing else. It seems straightforward, easy to understand, and… I find it nearly impossible to do well. I'm not sure where to go next with this. I know sewing, like any other skill, gets easier with experience, probably every novice sewer has wadders, blah blah blah, but this is so frustrating. It's been a long time since I ran into something that just seemed beyond my grasp (uh, food engineering problem sets, anyone?), and I've forgotten how to deal with total failure. What a waste of fabric, too. At least I didn't pay a lot for it.
I guess I wanted to talk about this because, in a way, it seemed disingenuous to blog only about successful projects. I don't pretend that I'm good at everything – I make mistakes, I try to learn from them, I move on. I'm not happy about how this has turned out, though. I've put the sewing machine away for now, at least while I ponder the next step.