The fiber that I sent to Wooly Knob is back! Actually, it was waiting for us when we returned from Rome (couple-week turnaround!), but I didn't have a chance to talk about it until now.
To refresh your memory, I sent them this:

and

This is what I got back:
Well, knock me over with a feather – it's PLUM colored! I opened it up, and it was so unlike the original fibers, I could not remember what I had sent to them for about 10 minutes. Did any of you think it would look like this?!
I also sent out some Blueface Leicester x Border Leicester wool that I had washed and dyed.
This was processed by Spinderellas; I asked that it be carded and pindrafted. Lynn sent it back within a week or so – love her service!
It's in a big, tall bag, and it puffs up when opened. It's taller than our large-scale furniture!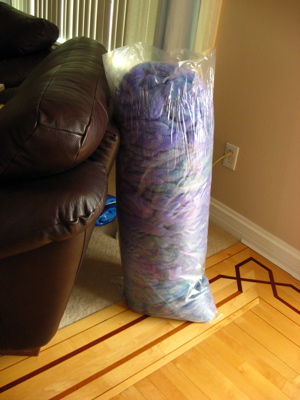 I haven't had a chance to spin either of these. Where is my time?!?!