I have a knitting FO to show – actually, it was completed right before Meredith was born. In fact, I had blocked it on a towel in the nursery the afternoon before labor started.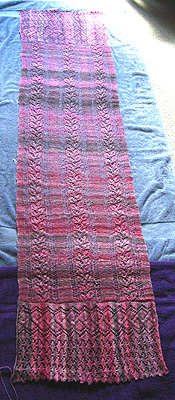 Note – this was not blocked with pins or wires, I washed it, spun out the water, and patted it flat. I used a ruler to ensure that the width was consistent throughout. The final dimensions were 60″ x 14″.
To recap, the yarn is spindle-spun Merino/Tencel (50/50) – read all about it here. To finish the shawl, I wove in the 2 ends. Here are some photos: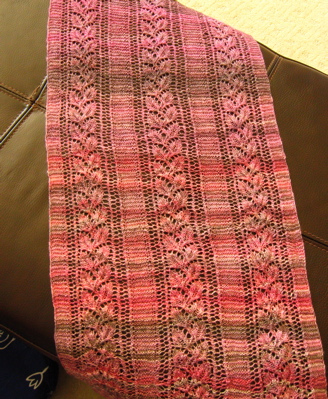 Even though I had tried to plan the size of the scarf to accommodate the amount of yarn, I still ran out with only 3 or 4 rows left to go. I didn't want to order another 2 oz, so I stash dove – luckily, I surfaced with pink fiber and grey fiber, both 50/50 Merino/silk. I blended it coarsely by hand and spun something similar enough to finish the border.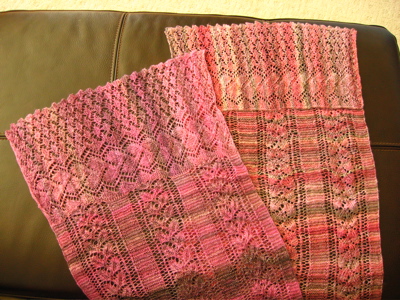 I didn't feel like dressing up to model the shawl myself, but I found a willing prop lying around the house.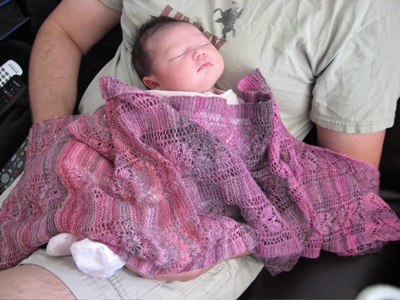 Maybe Meredith will want to wear it when she is a little older. 🙂
—
I previously promised you a parade of handmade baby clothes – first up is a handdyed, crocheted vest. Yarn is dyed bye Anne, vest made by Cathy. Isn't it sweet?